This year I hired a team of programmers in India to help with my work. We have been working together since February but had only ever spoken on Skype. The quality of Skype calls is not always good and accents can make audio calls hard to understand at times so it made a lot of sense to go over to India to meet the team and spend some time working together.
I've never been to India before so this was going to be a whole new experience. I was warned of the possible assault on my digestive system, the likelihood of being relieved of cash and the inevitability of being approached to buy things or services I neither wanted nor needed. As partial protection against all these alleged horrors I booked a room at the Hyatt Regency Hotel in Pune and flew Cathay Pacific premium economy to Mumbai.
The flight was good and they served a superb curry. Mumbai airport is modern, clean and smart, which was good as my flight to Pune wasn't for another 10 hours. On arrival I had to head straight for the toilet. Whether this was due to the curry or nervous anticipation. Not to dwell on the state of my bowels I must digress for a moment to talk about Indian toilets. The Indians, and many SE Asian countries, put a fire hose by the toilet, so that once you have done what you need to do you clean up with a refreshing jet from a water cannon. Compare that with the western approach of just rubbing your hairy backside with paper, effectively rubbing it into your skin. Not ideal.
Anyway, I moved onto immigration. Big arrow "first class and business class", I walked on to, "economy" and I joined the queue. Ten minutes later an official spotted the documents I was holding - "counter 55 for eVisas". I walked on to counter 55, where most of the other foreign visitors were lined up. Fortunately it was not just counter 55 but as it required fingerprints, and photographs it was another before I got through.
Still 9 hours to wait. I went to the airport hotel. One room left, a suite, around US$200, no thanks, but they suggested I tried the lounge downstairs. There I was able to get some peace and quiet and a pod to sleep in. At 5am Mumbai time I woke up, showered and changed and went off to kill a bit of time. Outside looked quite nice with some colourful fountains and food stalls so I stepped outside and looked around for a while before heading back inside. One thing I had noticed more or less as soon as I arrived was that there were a lot of armed soldiers wandering around and on trying to get back in I was faced with a large soldier behind whom was another with a machine gun. I had no passport, no ID, nothing to show that I was staying at the lounge and there was no way I was getting back in. Fortunately, the lounge was on the ground floor and I was able to jump up and down outside the window until someone spotted me and came out with a piece of paper. I was then sent to another gate where I was scanned for explosives and was then allowed to enter.
With my next flight to Pune I thought I might as well head out to the domestic terminal. I prepaid the taxi and was given a number and went down to the taxi rank where my taxi was not. People rallied round and made calls and eventually my taxi arrived and whisked me through the streets of Mumbai to the domestic terminal. Found my boarding pass and handed it into the soldier at the door who pointed out that I was at the wrong terminal and that my Jet Airways flight went from the international terminal.
I took another taxi back to international where I was greeted by a Jet Airways official who suggested I might like to use the business class lounge. I did and very nice it was too.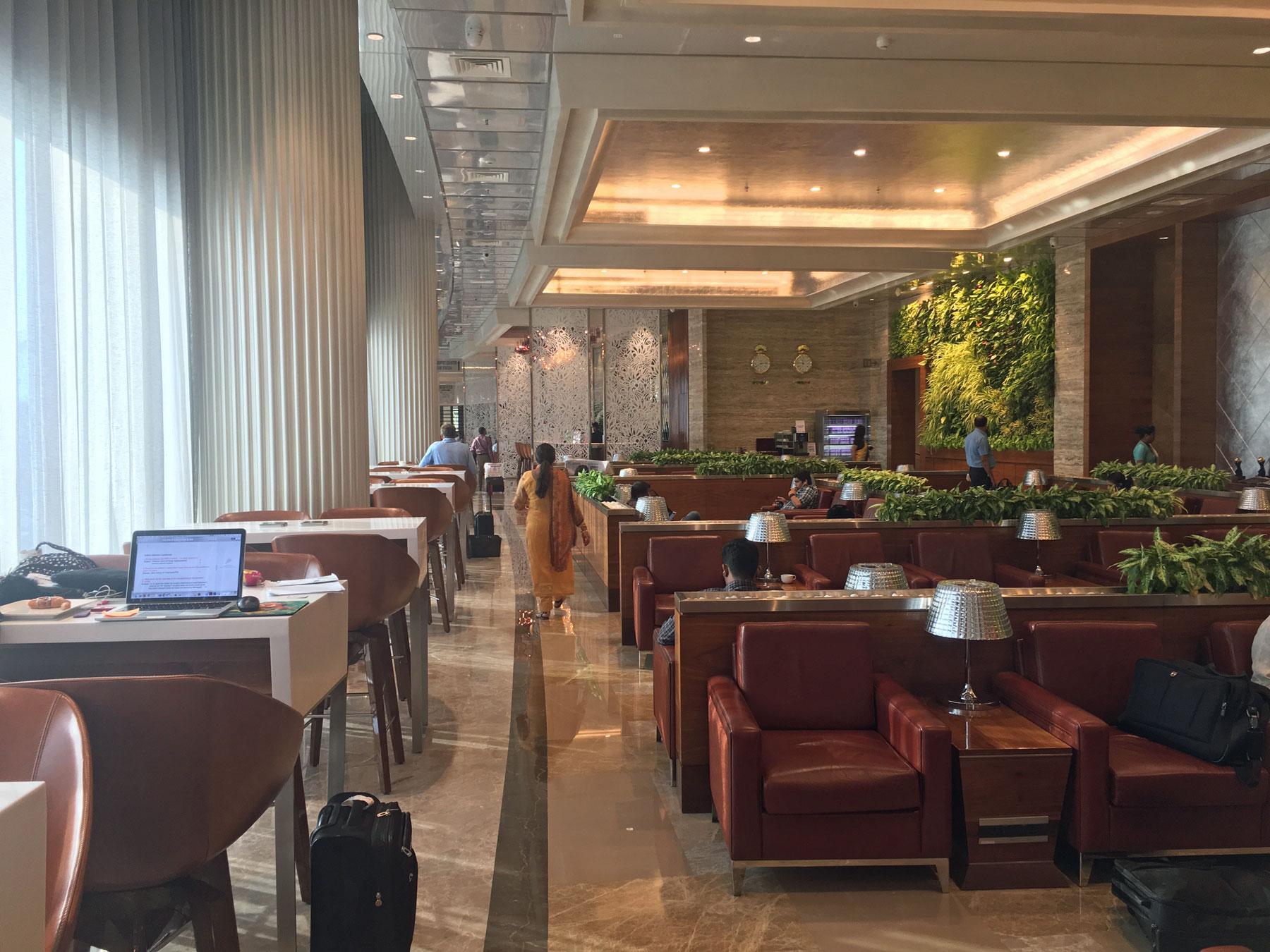 Eventually my, delayed, flight to Pune was ready to go. The flight was 25 minutes and, having waited 10 hours I realised I could have gone by taxi in 3 hours, but now I was on the plane and was ready to enjoy the views. There were none. Mumbai was shrouded in haze in much the same way as Hong Kong tends to be.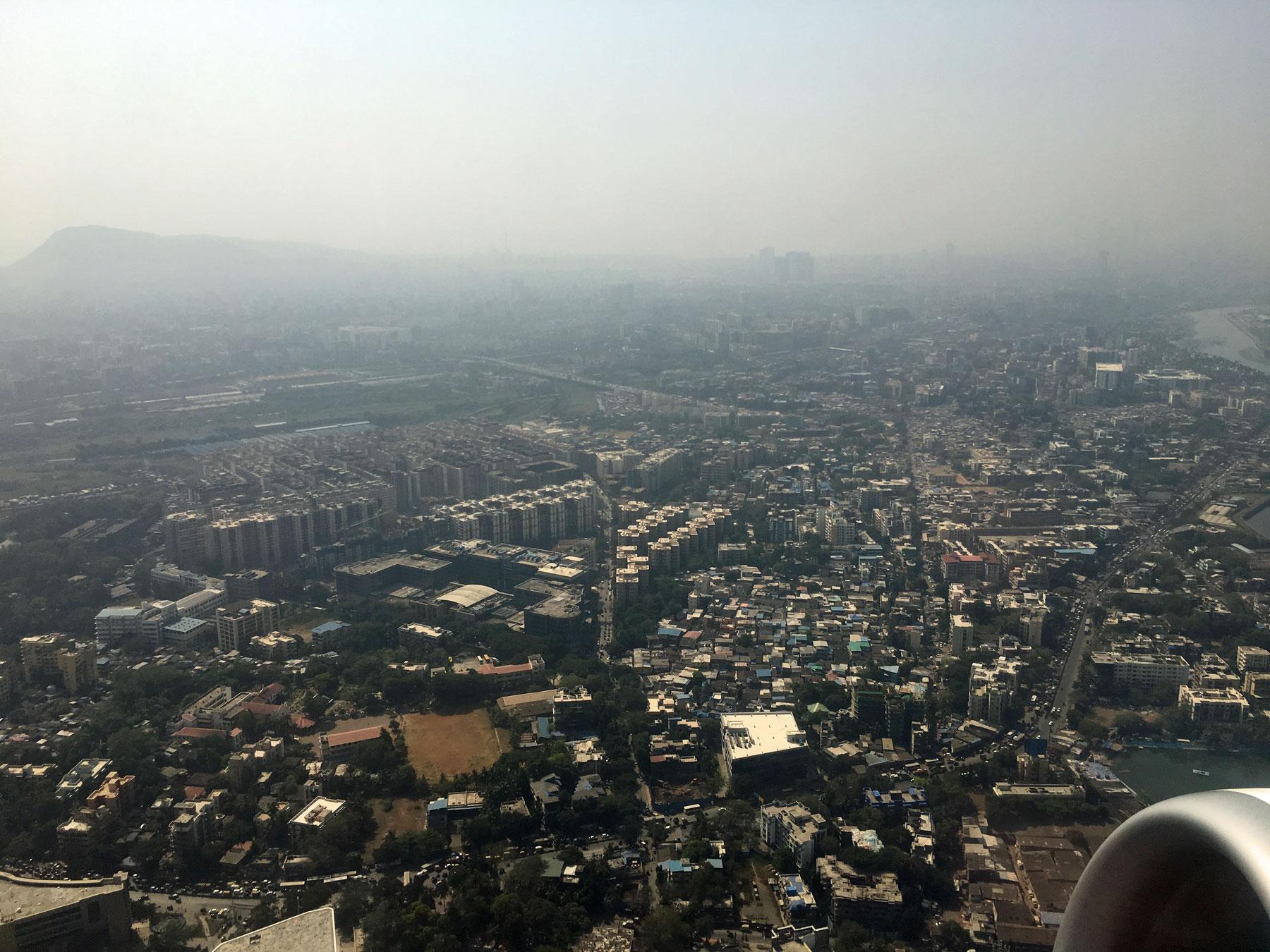 To make sure I didn't have to fight with taxi touts at Pune I had booked a taxi and had discussed my intended destination at some length on WhatsApp before leaving Hong Kong and it was a relief to see my name on a board in the arrival hall and even more of a relief to be dropped at the Hyatt Hotel..... except it was the wrong Hyatt Hotel. I was booked at the Hyatt Regency, which is what I had told the taxi but everything was fine, the receptionist told me to sit down, they would bring me a coffee and then take me to the right hotel, which they duly did. Turned out to be a good choice as the hotel was excellent and I knew that, whatever else happened in the next few days, I had an oasis to return to. At last something was going right!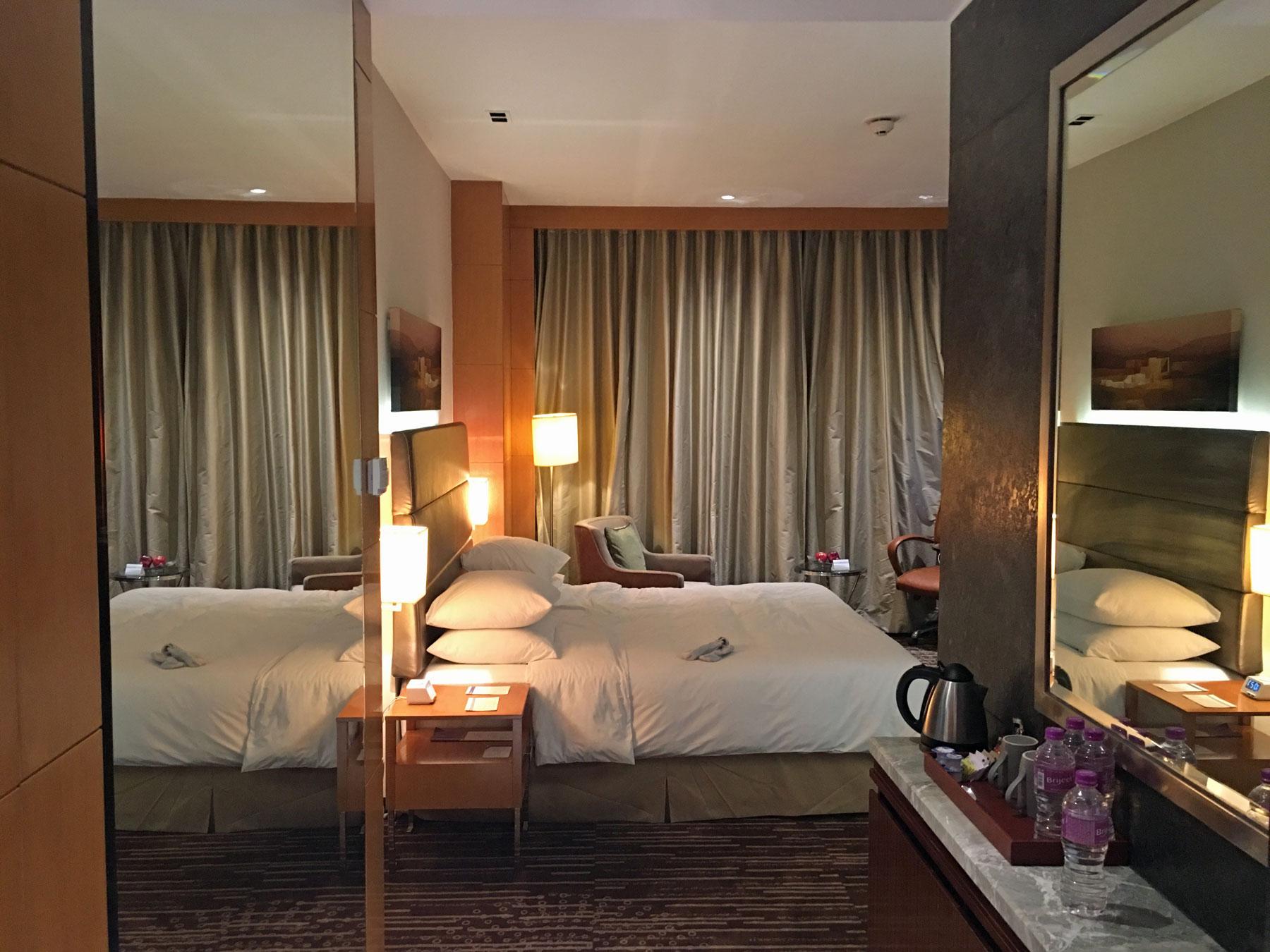 That afternoon, Amulay, my contact in Pune, picked me from the hotel and drove me to his office. Driving in Pune is exciting to say the least. If there's a gap, go for it. As far as motorbikes are concerned, red lights are merely suggestions and pedestrians walk calmly across the road as mayhem passes either side. Hong Kong is crowded and everyone drives round in big cars, Pune is crowded and everyone drives round in small to medium sized cars, most of which have a fine array of dents and scratches or whizz around on small motor bikes. While cars and pedestrians seem expendable, rrees, on the other hand, are well respected and at least one road had a tree about a metre from the pavement with motorbikes, passing either side.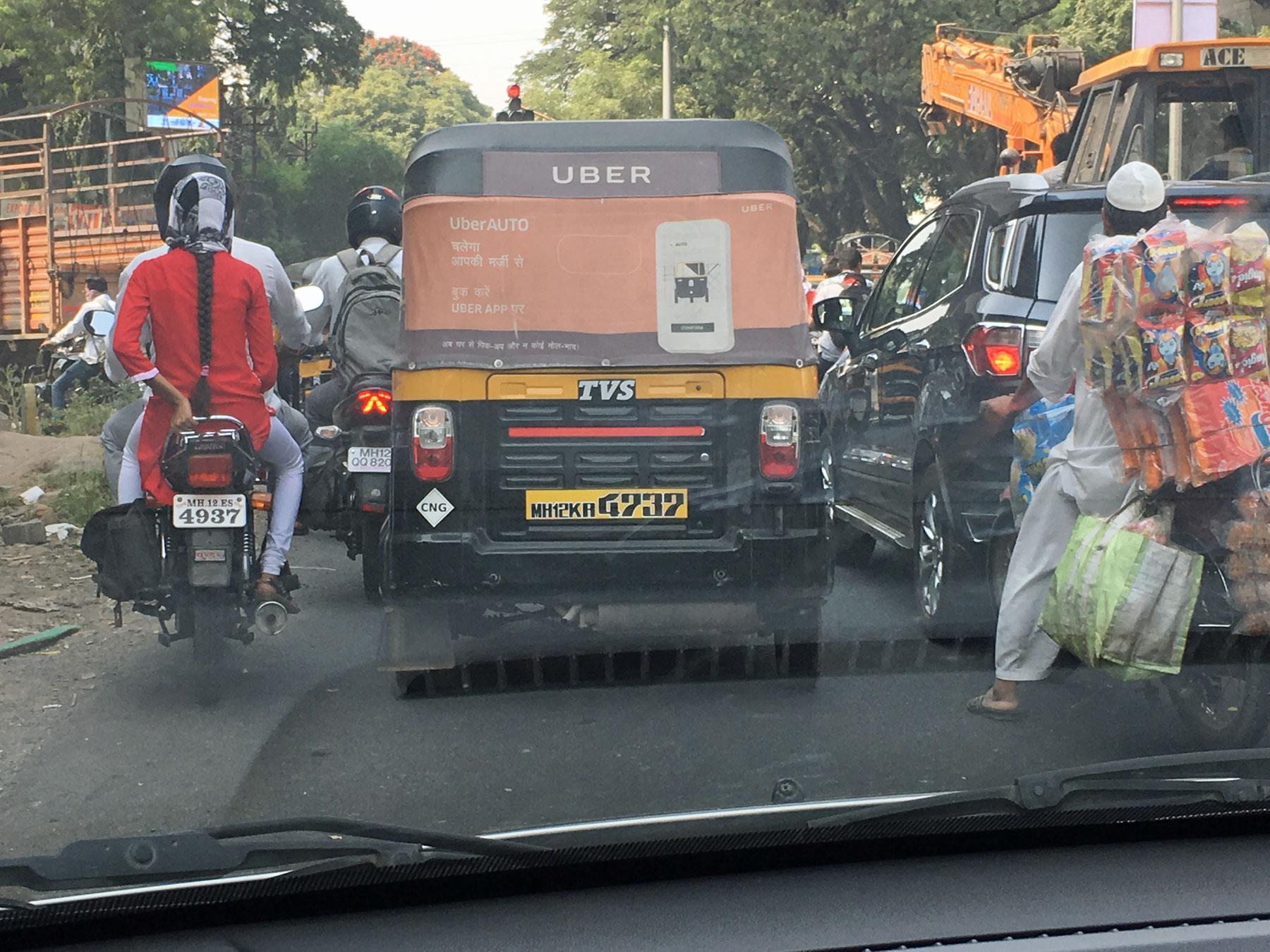 Equally well respected were the cattle which could bring traffic to an uncomplaining standstill.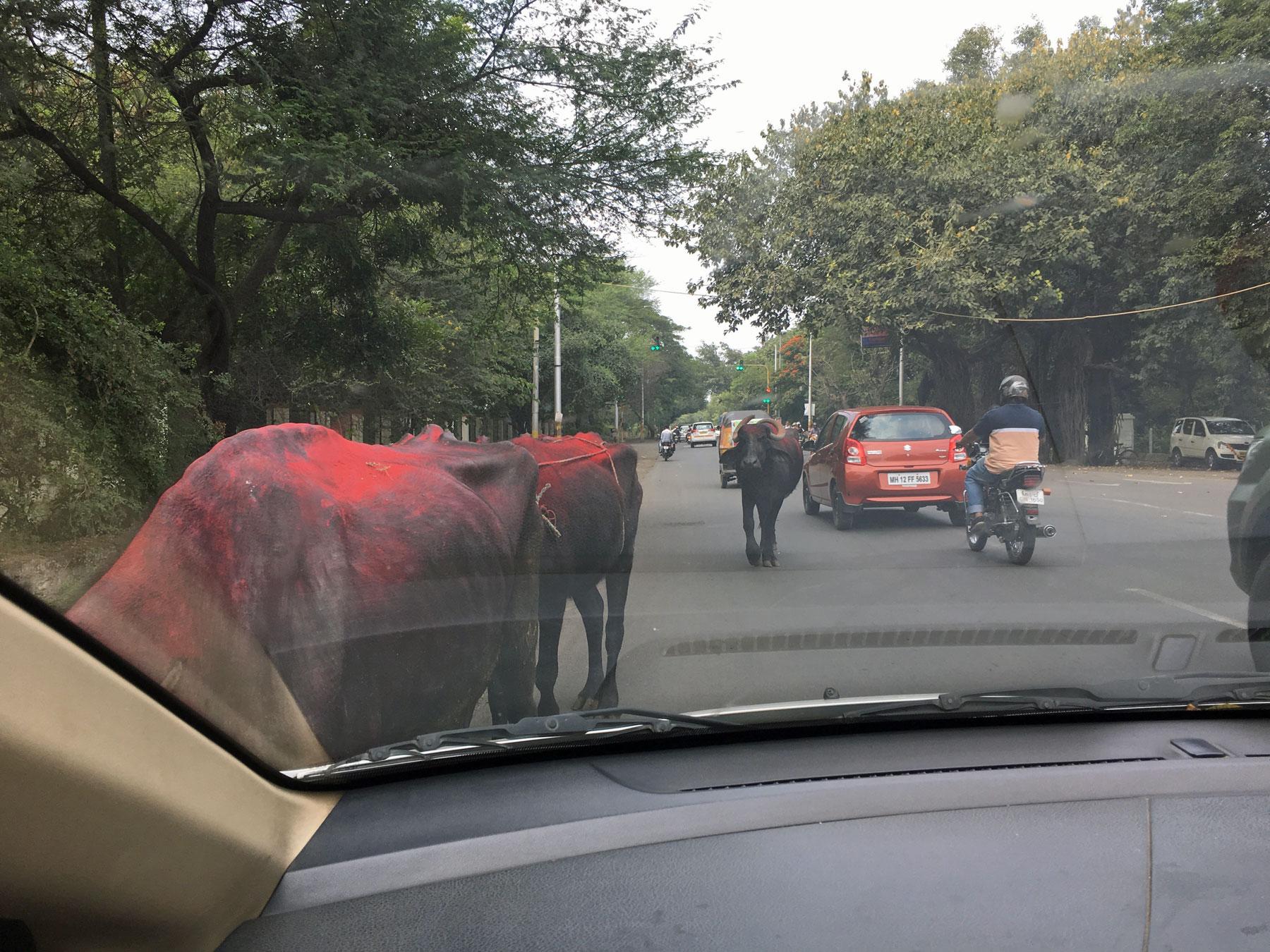 The office was quiet and functional. At least a dozen programmers worked in the computer room and eyed me with some interest. I spent most of the time in the conference room, working with various groups of programmers. The staff were great and very friendly. I must admit that accents were a bit of a struggle but we got on well and time was used productively.
Amulay took me out in the evening to Prem's restaurant, somewhere in Pune, where we spent a very enjoyable few hours, eating, drinking and getting to know each other.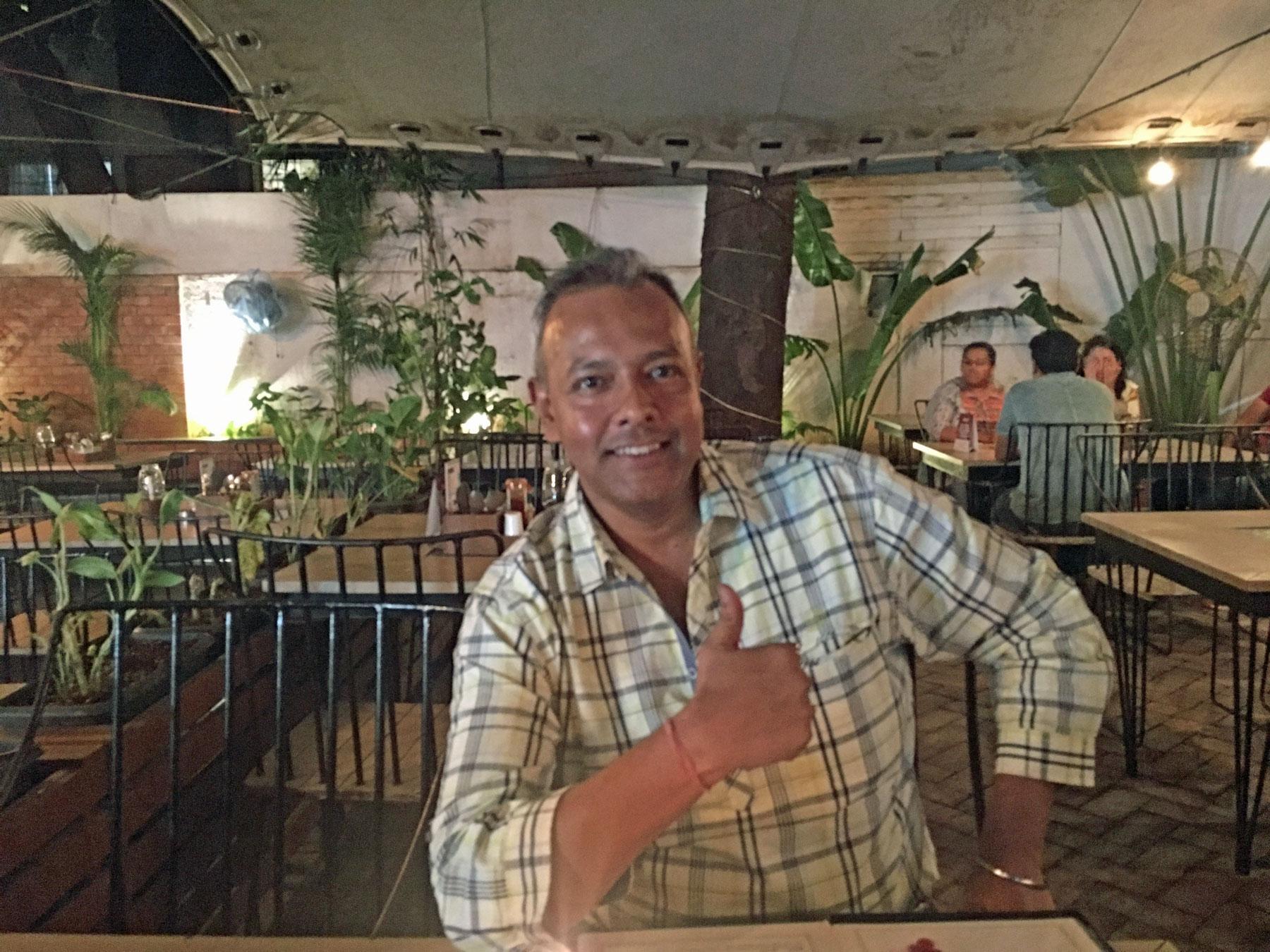 Not sure what to expect I only booked for a few days. I would have happily stayed at the hotel a lot longer and, having been well looked after, I would have no worries about a return visit.