For those of you familiar with Hong Kong, Tuen Mun would not be among your top-ten places to hang out and look cool. For many years it was a remote new town with a big power station in the north-west New Territories. In recent years it has been linked to civilisation by the West Rail MTR extension. Half an hour on the train and I was at Tuen Mun station. At Tuen Mun station you can transfer to the LRT (Light Rail Transit) which is north-west Hong Kong's answer to Hong Kong island's trams. Considering full sized trains, granted only one or two carriages, travel through the streets there are surprisingly few fatalities. The LRT is an extensive rail system providing a convenient network linking a lot of places that most people would not think of going to. I travelled one stop on the LRT and got off at the Town Hall, not that I wanted to go to the Town Hall but the station is adjacent to Tuen Mun Park.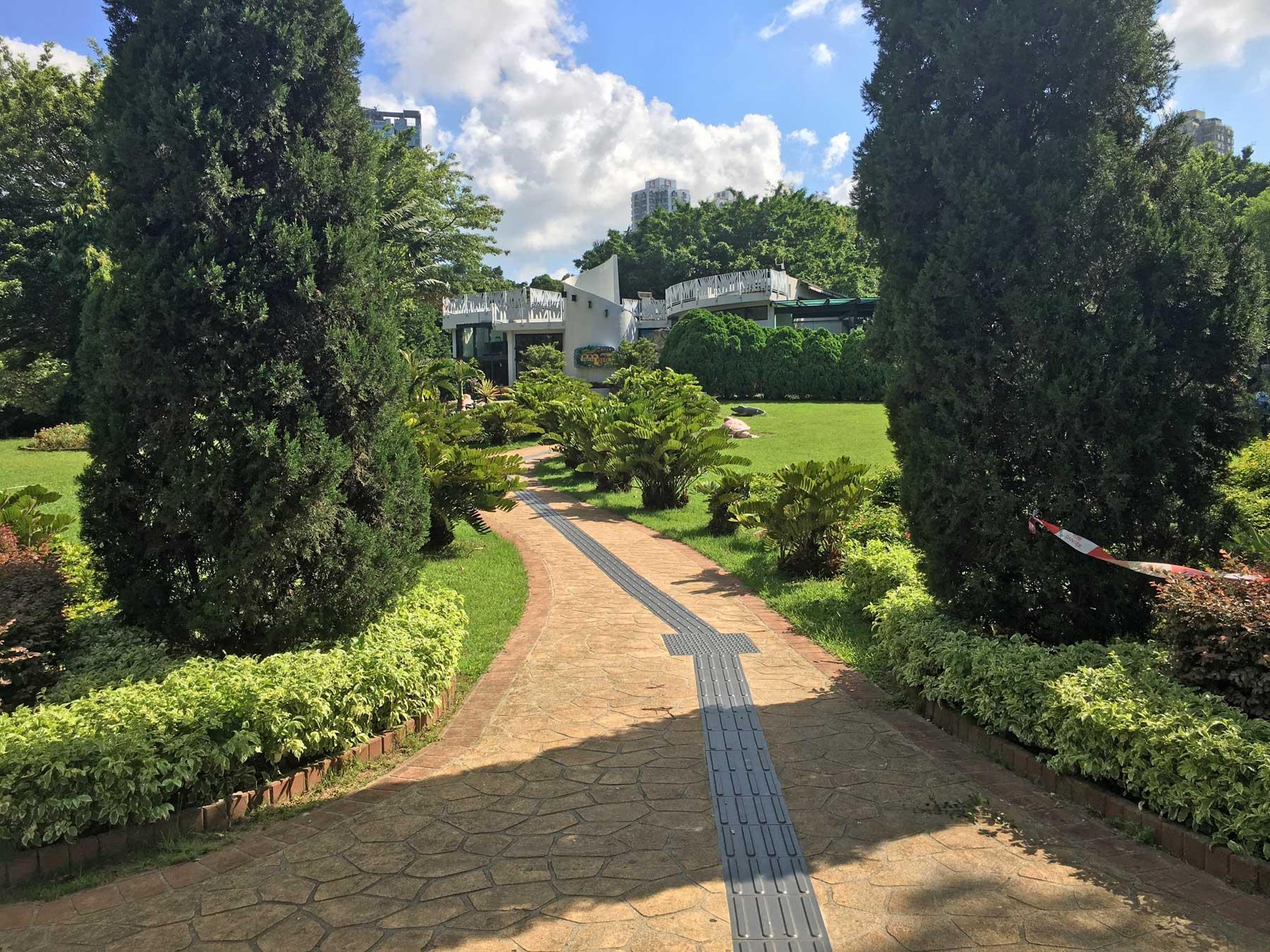 At 9am on a Saturday morning, the park was a very pleasant escape. Quiet paths wandering through gardens, past lakes and water features. Groups of, mainly old, people performing morning exercise. A group of men crowded around a table to watch a game of chess. At another two men were playing a serious game of Go with chess style stop clocks to time their moves. A modern building set tastefully within the gardens turned out to be a reptile house. Open at 9am and free admission to a well-presented set of snakes and lizards. For those with a fear of such creatures, it was reassuring to see that none of them was venomous.
But I had not come to Tuen Mun to look at the park, I was after a ferry that I had never used so it was back on the LRT to go down to Tuen Mun pier. I bought a ticket for the Tai O ferry but had almost an hour to kill so went for a stroll along Tuen Mun promenade. The promenade is very pleasant; a wide path with the sea on one side, with views across to the mountains of Lantau island, and shops on the other. At the far end you come to Butterfly Beach which, when I first came to Hong Kong, was almost always closed due to pollution.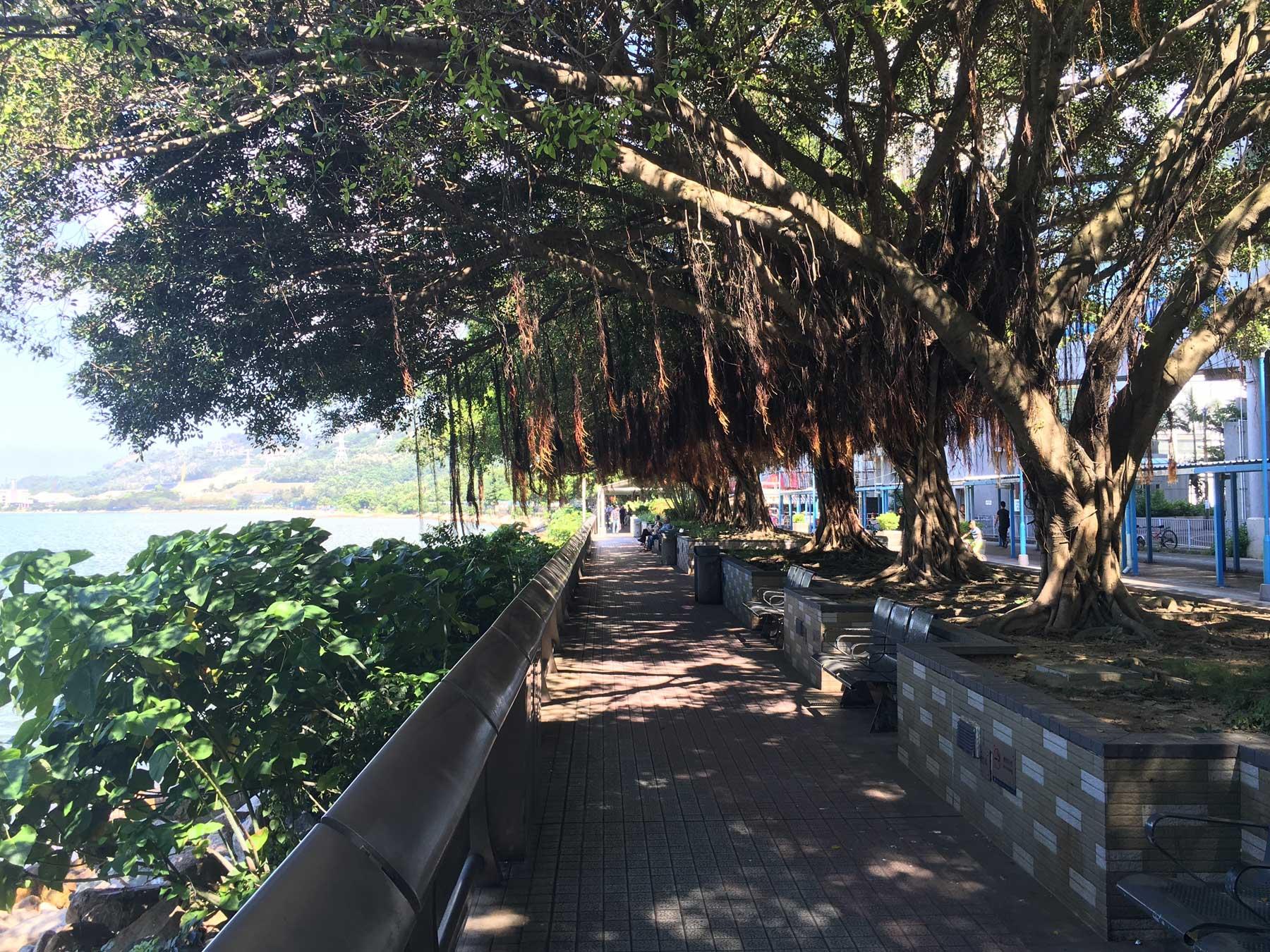 Walking back to the ferry pier I noticed a very small beach which could have been an attractive feature had it not been covered in plastic bottles and other rubbish washed up by the sea. Meanwhile, a council worker was sweeping up leaves from the promenade. Some 50 metres further on was another worker sweeping up leaves and a further 50 metres I came across another worker hosing down the path. I couldn't help thinking that these workers could have spared half an hour to clean up the beach as, to me, plastic bottles are far more offensive than fallen leaves.
At last it was time to board the ferry. First stop was Tung Chung on Lantau Island, which is another new town that grew up as a result of Hong Kong airport moving out of the city centre. New towns take time to mature and blend into their surroundings. The design of Tung Chung suggests it will be a long time before it blends into its surroundings. Armies of high rise dominate the landscape and stare out across the sea to Tuen Mun. Opposite Tung Chung is the island that was built to house the airport and the ferry proceeded down the channel between the two to Sha Lo Wan and then on to Tai O.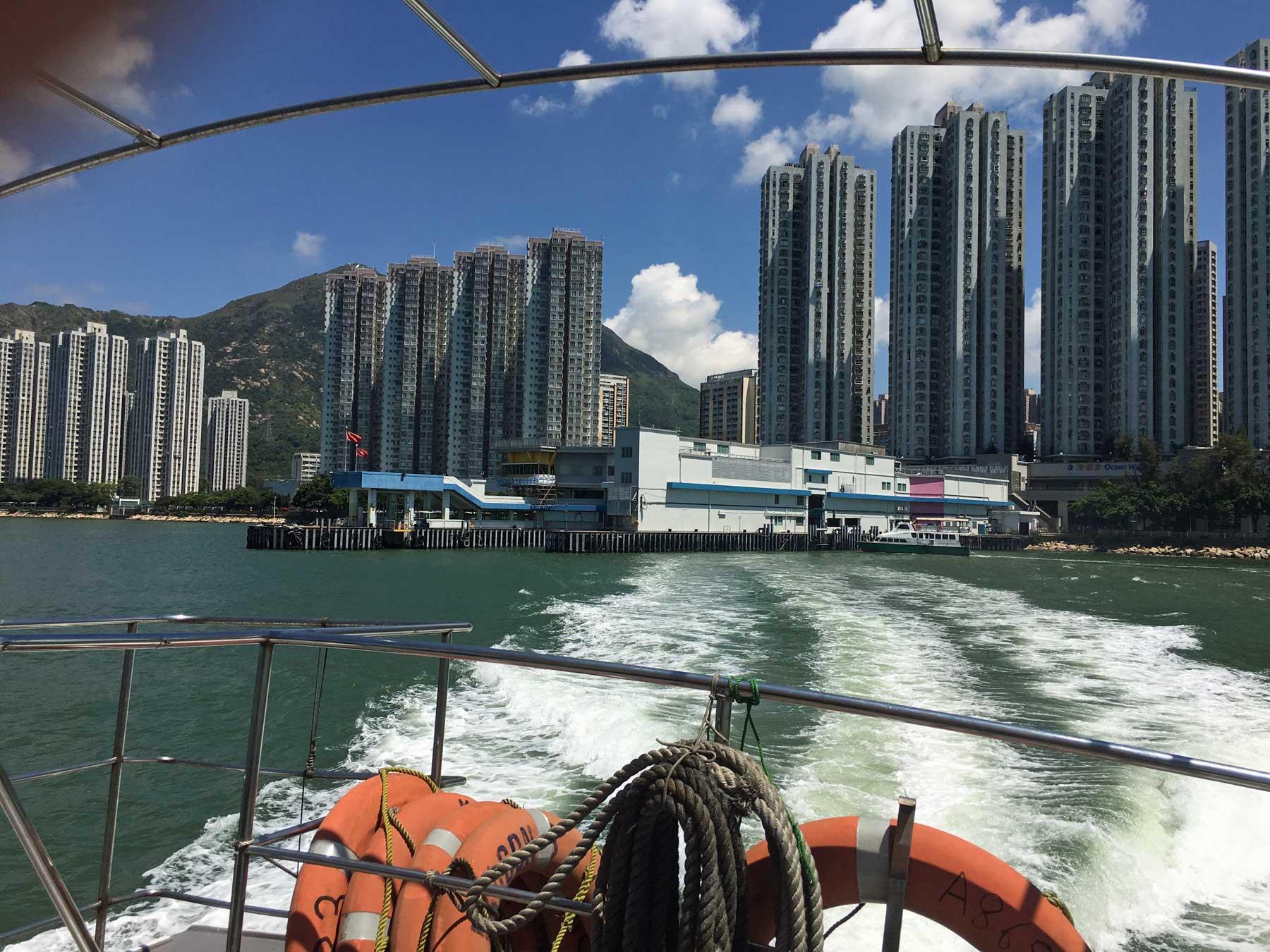 Tai O provides a wonderful contrast to other parts of Hong Kong with most of its houses being built above the water, largely from aluminium sheeting. It was not too long ago that visitors to Tai O had to cross the river into the main village on a small boat powered by old ladies who pulled on ropes to move it. They have been replaced by a bridge, which is just as well as Tai O attracts a lot more visitors these days.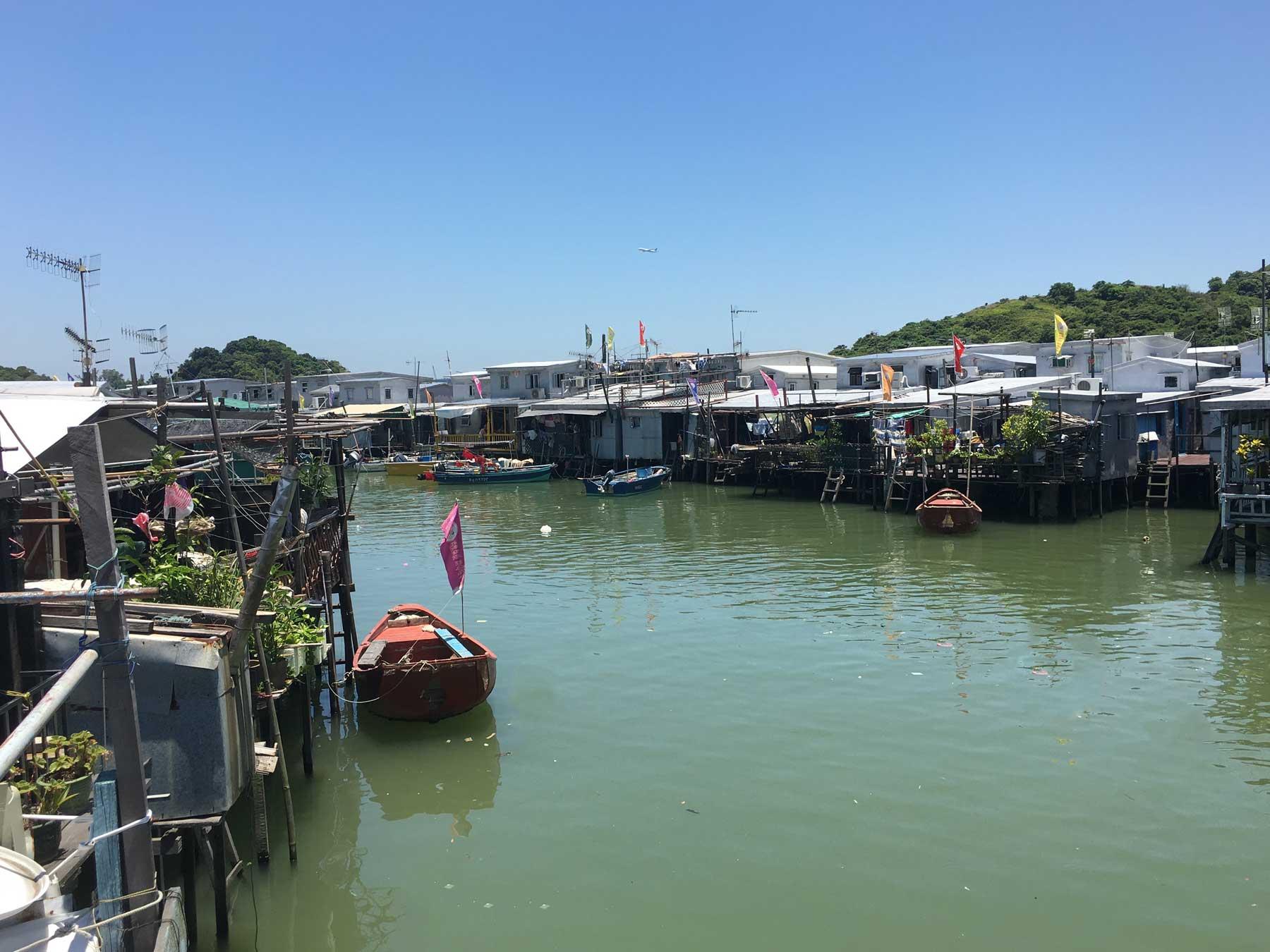 From Tai O I set out on the main event of the day, which was to walk back up the coast to Tung Chung. It is not a particularly difficult walk as the hills are not excessive but it was 34 degrees that day and when walking on exposed sections across rocks that had already been baked in the sun I would think the temperatures were more like 38. However, unlike walks in previous weeks, the humidity was mercifully low so that it was possible to sit still and not sweat. The narrow path out of Tai O offers great views along the coast and across to Tuen Mun.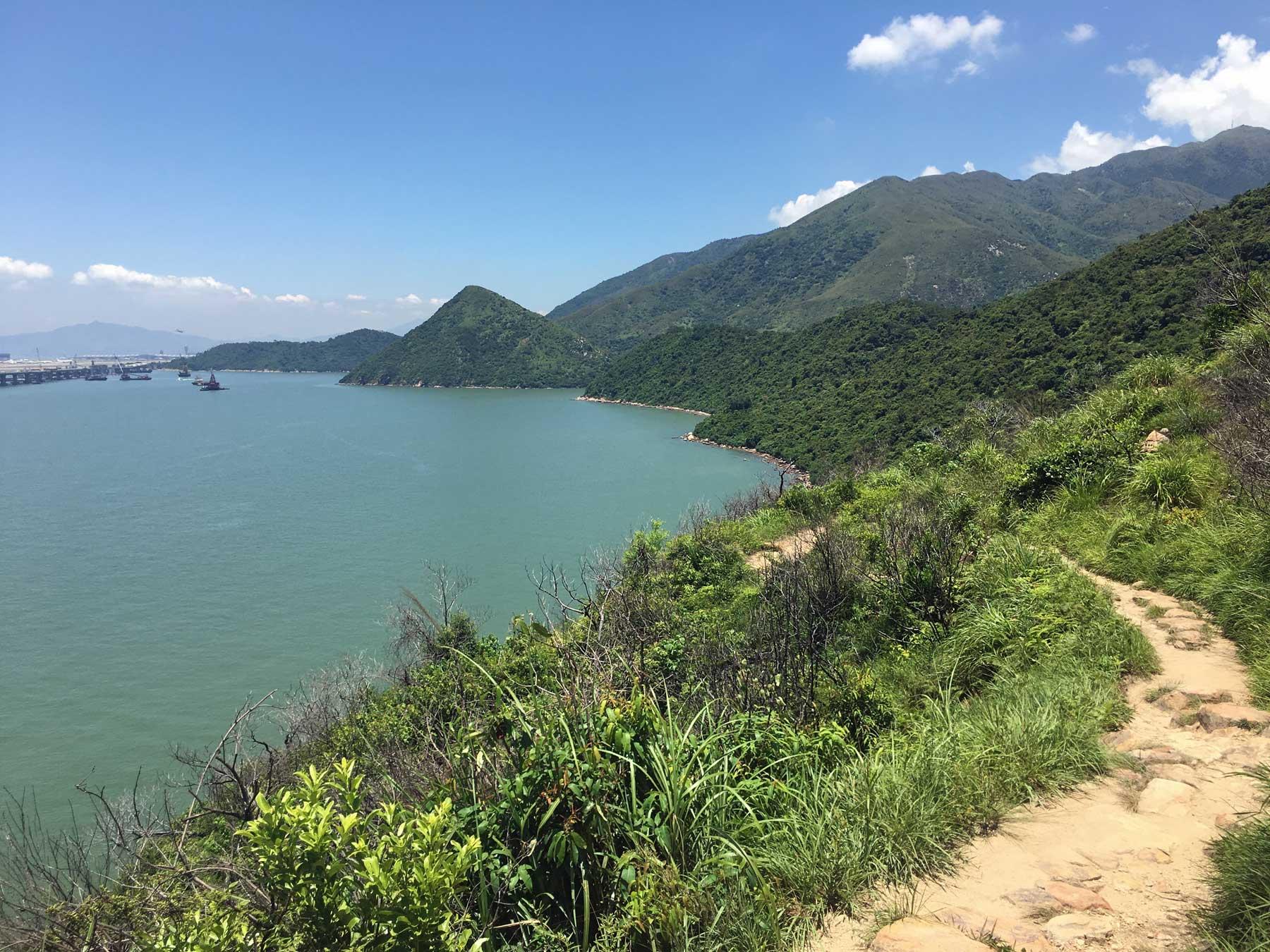 But the coast is now dominated by the new bridge to Zhuhai which is under construction.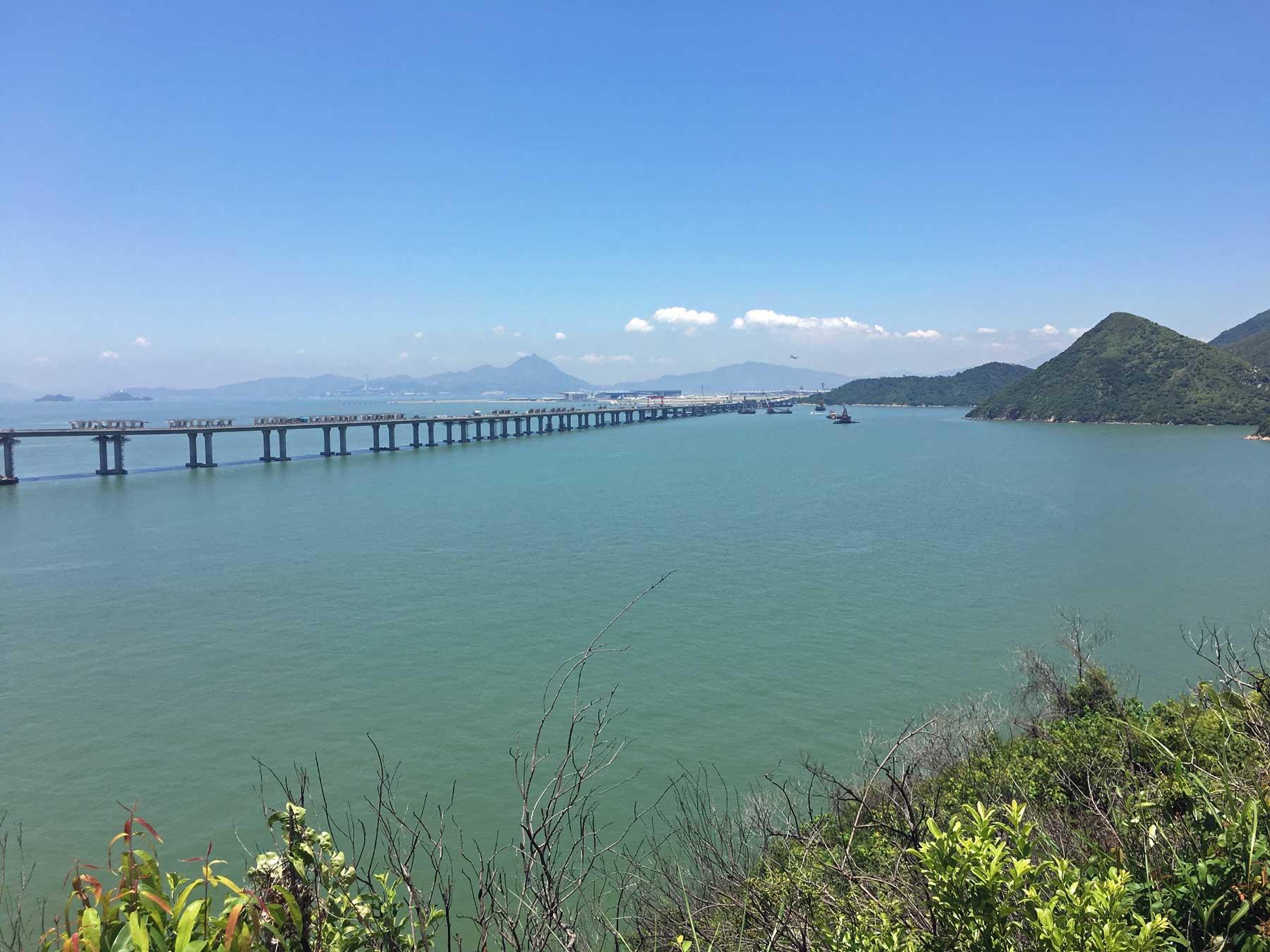 This section of the path keeps to the coast but does not keep to the contours so that every time you go round a headland you have to climb a bit. It seemed like a bad decision on the part of the path makers but I think the need to go over rather than round is dicated by the electricity poles that prefer to take the shortest rather than easiest route. After an hour I reached Sham Wat, a sleepy little village with a few restaurants catering for those hiking along the path. It is also a point of no return for those heading towards Tung Chung as it provides the last place with road access that would allow the weary to escape. I must admit to being weary and struggling a bit in the heat and was considering calling for a taxi. Not surprisingly there were no Ubers in the vicinity and I sat down at one of the open air restaurants looking out across the bay. Relaxing with a hot coffee and a bowl of daofu fa, which is a sort of blancmange made from tofu and served with ginger sugar, I felt revived and ready to proceed towards Tung Chung.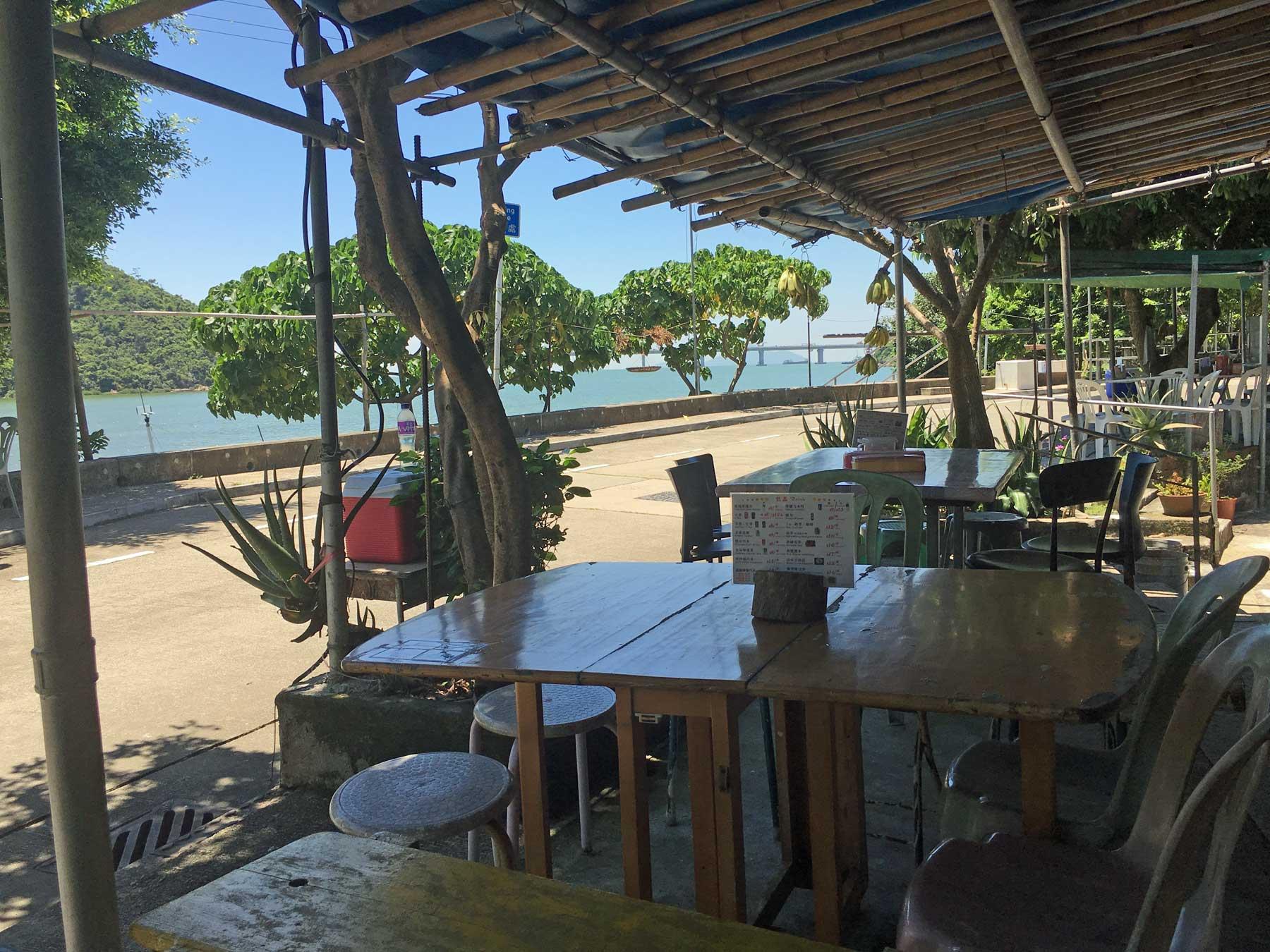 The next place of note was Sha Lo Wan. The last time I was there it was a quiet village cut off from the modern world with no road access and views across the Pearl River Estuary. How things have changed. The village seems to have fewer residents and it still has no road access but the runway for new airport ends opposite the village. While I was there the constant noise of planes taking off wrecked any possibility of peace and tranqulity despite its tranquil setting which was not improved by the construction work being carried out on the Zhuhai bridge. The only consolation the villagers have is that they now have ferry access to the facilities of Tung Chung but other than that is hard to see that they have gained any benefits from the new airport.
The next village, San Tau, had numerous banners up expressing opposition to the building of a third runway which is likely to inflict more noise pollution both during its construction and on completion. Unfortunately for the villagers, it is unlikely that their few voices are likely to bother those with power and big ideas. Not far from San Tau, the merry sight of tower blocks announced that I was closing in on Tung Chung.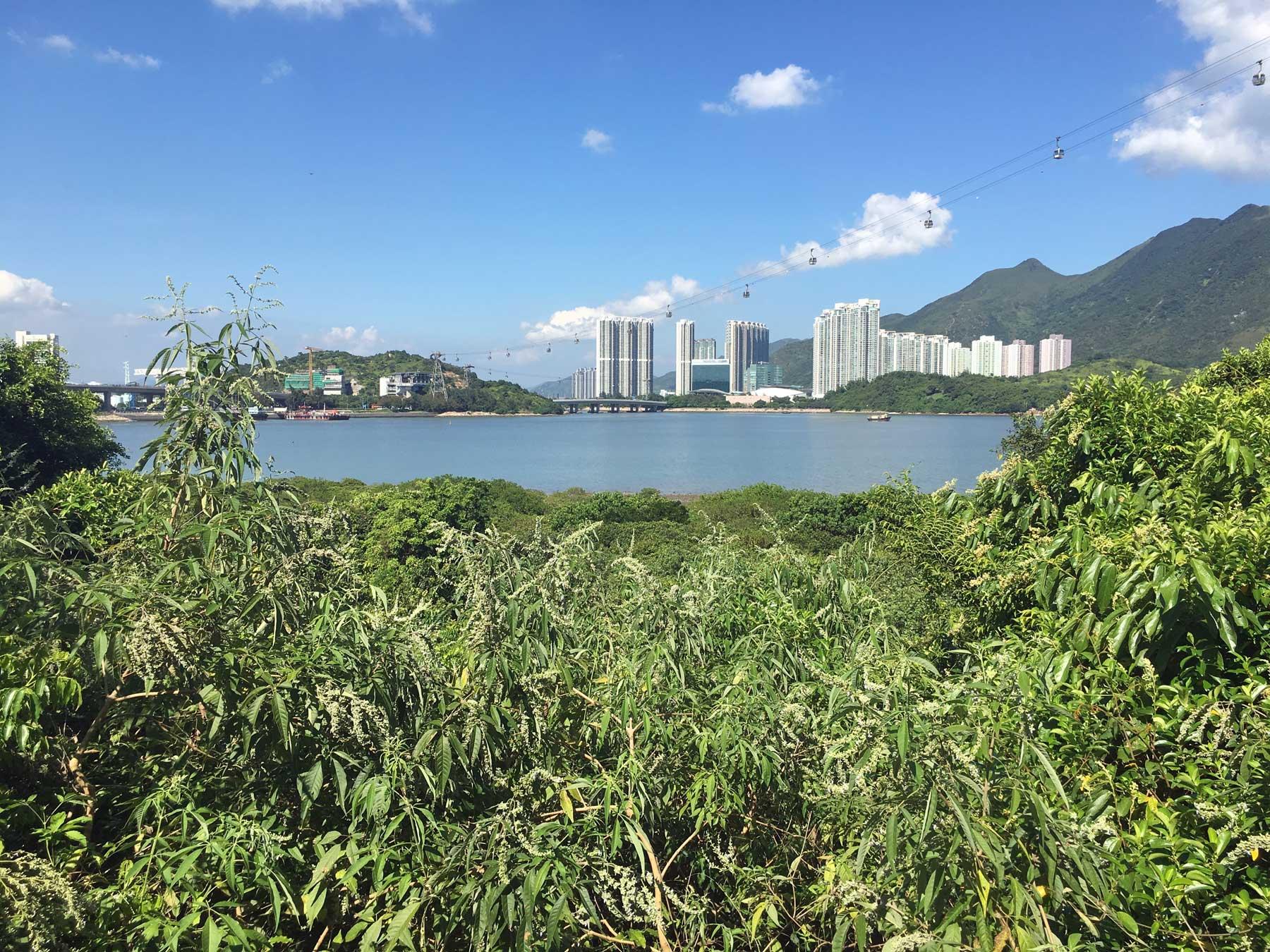 The gondolas heading up to the giant Buddha on Lantau Peak passed overhead and I headed for Tung Chung fort. Despite all the development the fort has survived and provides a quiet spot to sit and consider Hong Kong's history well before the Brits arrived and planted their flag.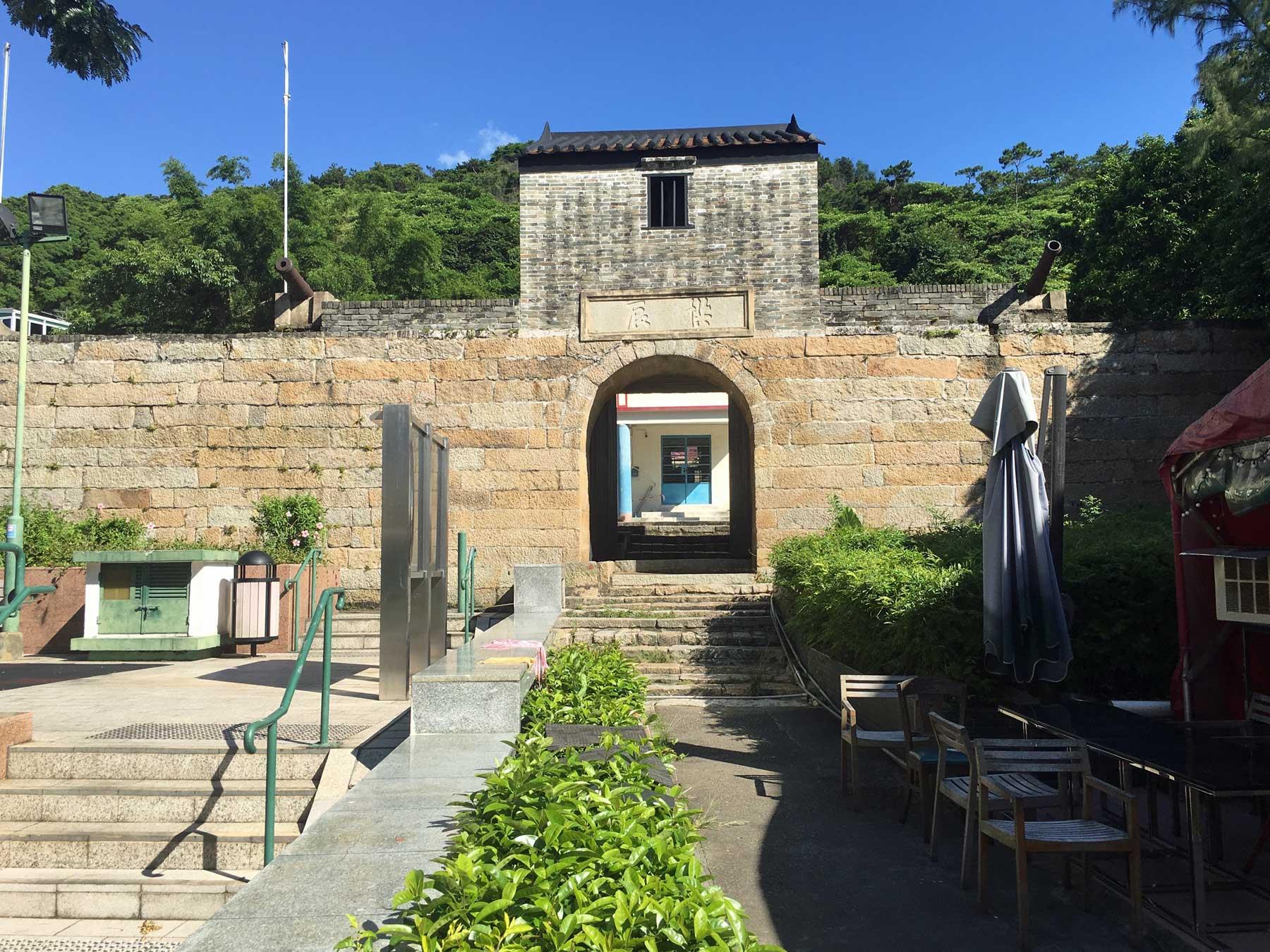 But progress can't be stopped so the historic fort is now a mere speck amongst the high rise.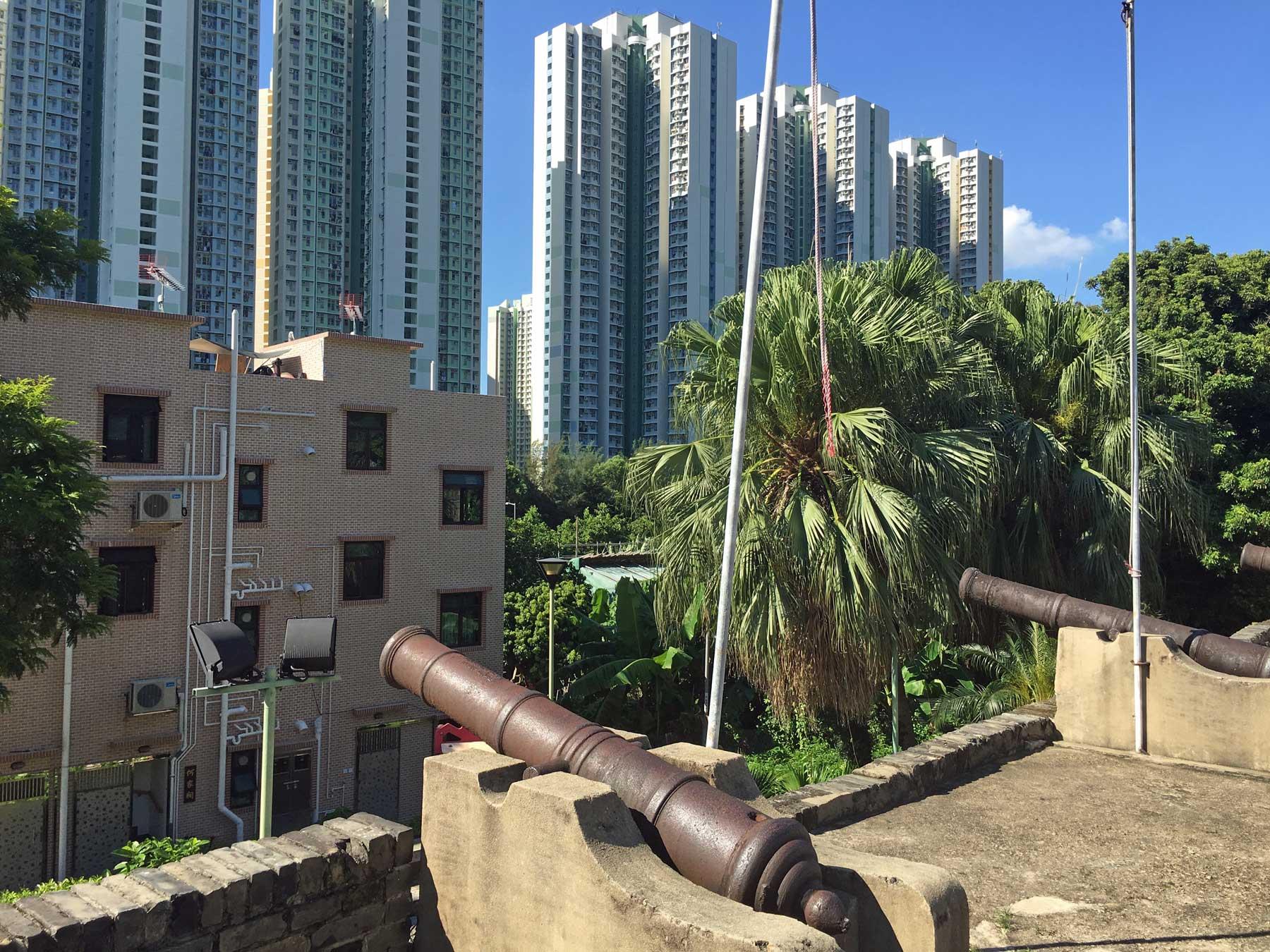 And so into Tung Chung, a somewhat soulless place but it did have a very welcome MTR station. Before getting on the train I thought I would have a wash and change my clothes but, like most MTR stations, it didn't provide toilets where such acts could be performed in private so I was reduced to sitting on the floor and wiping myself down with wet wipes before slipping on a new shirt. Signs in country parks often say 'take your litter home' and the MTR seem to have a similar way of thinking. At least more recent stations now offer toilet facilities.