Hong Kong is made up of more than 200 islands although few are inhabited. Po Toi is an island of just over 3.69 sq km, south of Hong Kong island with a very small population of permanent residents. While the larger, more popular islands can be accessed by ferries from the central ferry pier to get to Po Toi you need to take a ferry from Aberdeen or Stanley. Aberdeen is an entertainment in itself with its busy harbour full of fishing boats, luxury yachts, kaidos, junks and sampans shuffling people across to Ap Lei Chau, a densely populated island a few hundred metres from Aberdeen. The local authority has done a lot to make Aberdeen more attractive to visit and the waterfront area is a lively place to visit.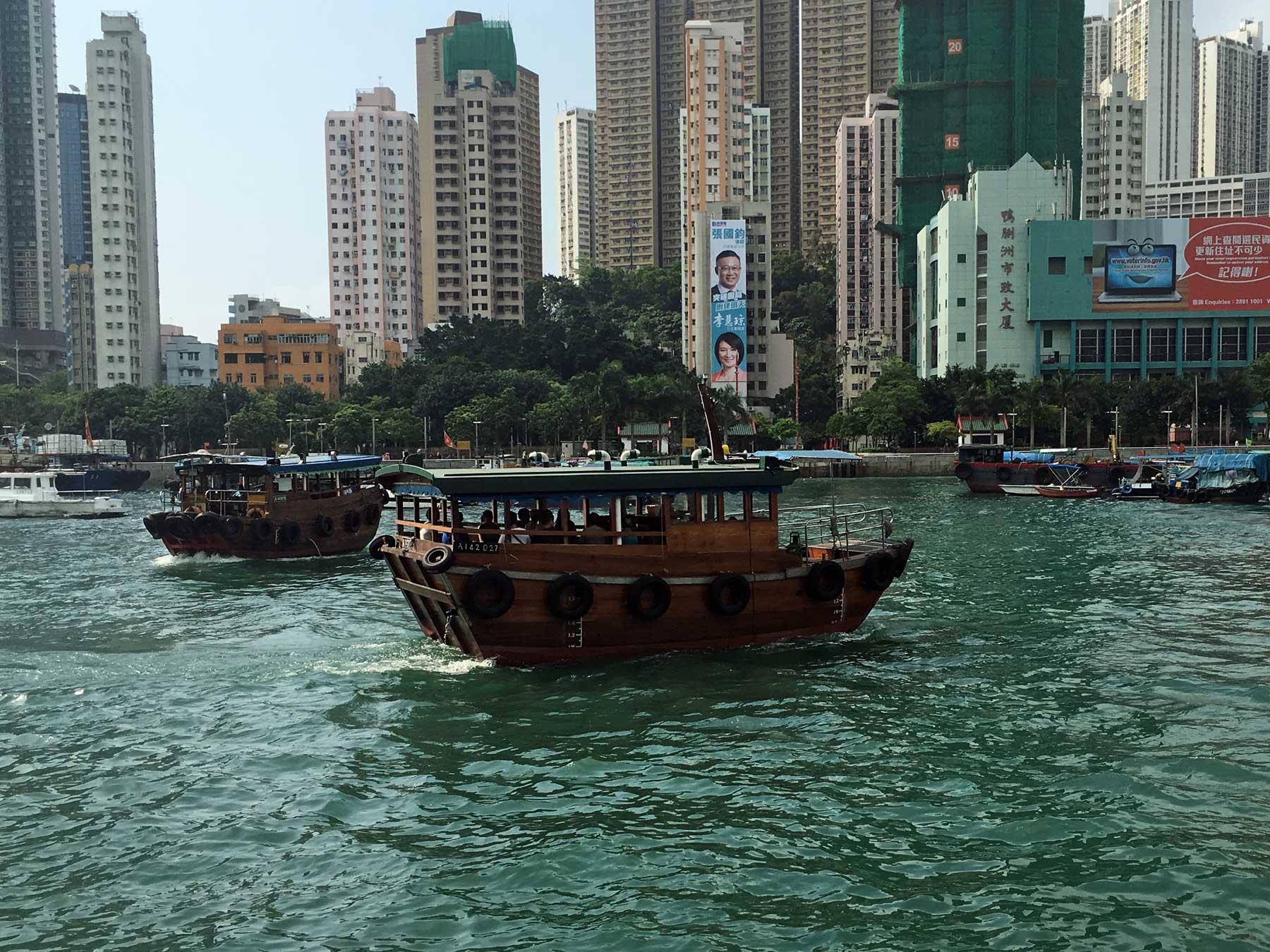 Apart from Sundays there is one ferry a day from Aberdeen to Po Toi, which also helps to make it less well known than the bigger islands but any thoughts that my day would be a quiet getaway were dashed as the queue for the ferry grew longer and a sizeable ferry boat appeared and I boarded along with around 300 other people.
The ferry heads south east, taking it along the south coast of Hong Kong island before leaving the Stanley peninsula, passing Beaufort island and arriving at Tai Wan, an attractive bay where the ferry disgorged its passengers.
Po Toi map
Hong Kong people enjoy going to the many country parks at the weekend to escape from the city. But they do not come to enjoy the peace and quiet of the country while communing with nature. On a quiet path it is not uncommon to come across a large and noisy group scaring off the wildlife and picking the few remaining wild flowers.
So a small island, few footpaths, a lot of people and the prospect of following everyone round for a few hours was not inviting. When you disembark you have the choice of turning left to the village of Tai Wan, going straight ahead up the hill or turning right. I turned left towards the village which has a few houses, an attractive beach and a large restaurant, the Ming Kee. Beyond that is a Tin Hau temple. By the time I reached the temple I had left the crowds behind and had a few minutes of silence looking back towards Hong Kong island before my fellow travellers started to arrive.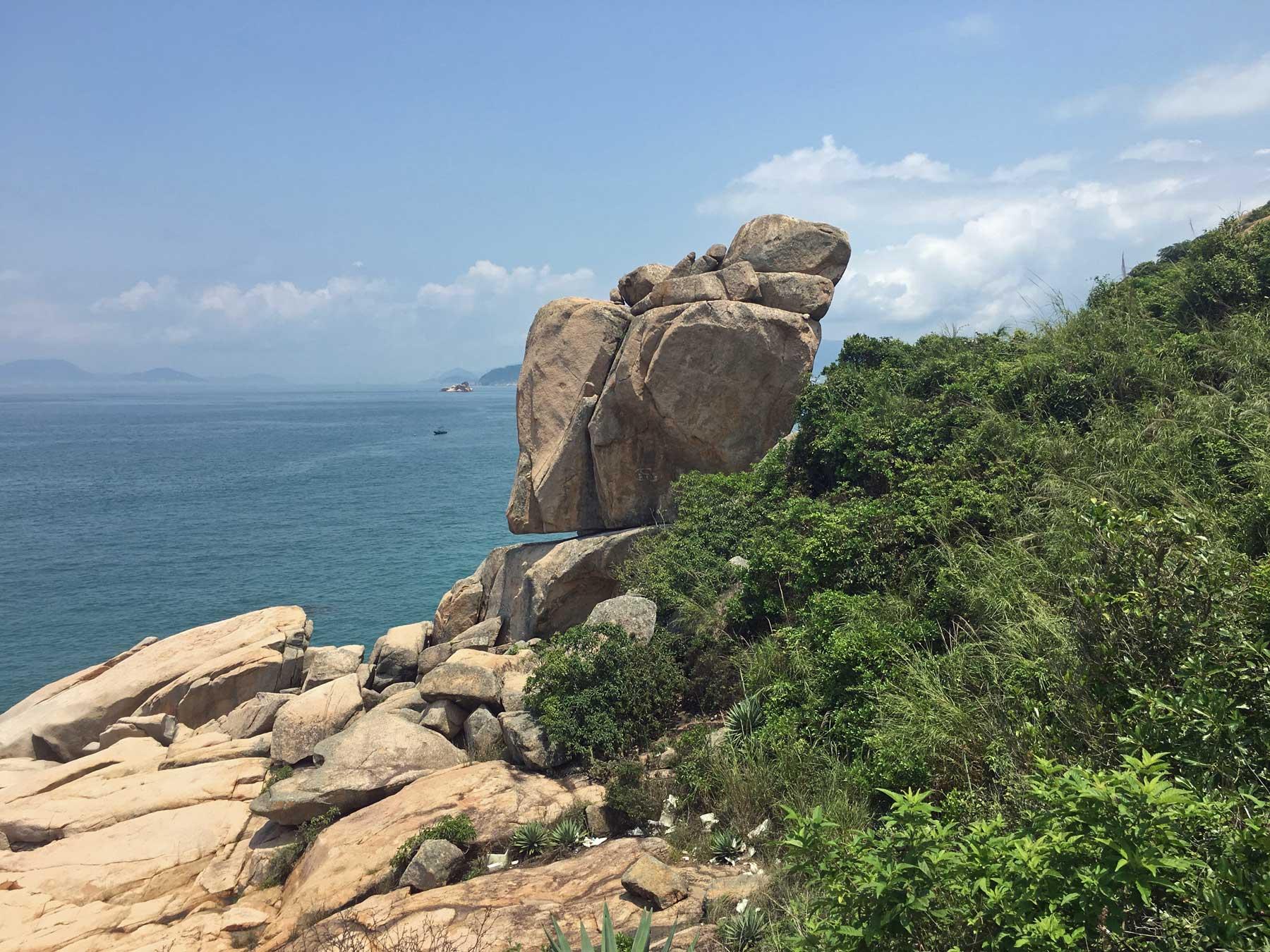 Back in the village I enjoyed a quiet lunch of noodles, at a small establishment behind the Ming Kee restaurant. Noodles, what a great invention, quick, versatile and nourishing. Some instant noodles, boiling water, fried egg, luncheon meat and, in this case, a generous helping of seaweed. That set me up for the day, or so I thought. While I had plenty of fuel on board I didn't realise at this point that I had failed to take on enough fluids.
This was the first really hot day of the year with blue skies and temperatures into the low thirties. I walked back through the village back to the ferry pier and then started a gentle climb up a hill through the trees past one of the many small establishments selling drinks and snacks. Back down towards the shore the trees disappeared and views of the bay and the Ngong Ching peninsula opened up. Po Toi is famous for its rock carvings and a short walk down from the main path takes you to the view points to look at them. With no shelter it is amazing they have not eroded more than they have.
The path continued to the peninsula and up a hill to a viewing point. I found it surprisingly hard to climb the steps and considering I am in reasonably good shape I realised I hadn't drunk enough water and the heat was getting to me. I still climbed to the top of the hill where the views are great and, if only we could have some really clear days, would have been spectacular with mountainous islands, calm seas and views south to China's Lema islands. Unfortunately these days it is very rare to have the clarity to see all this other than in hazy outline.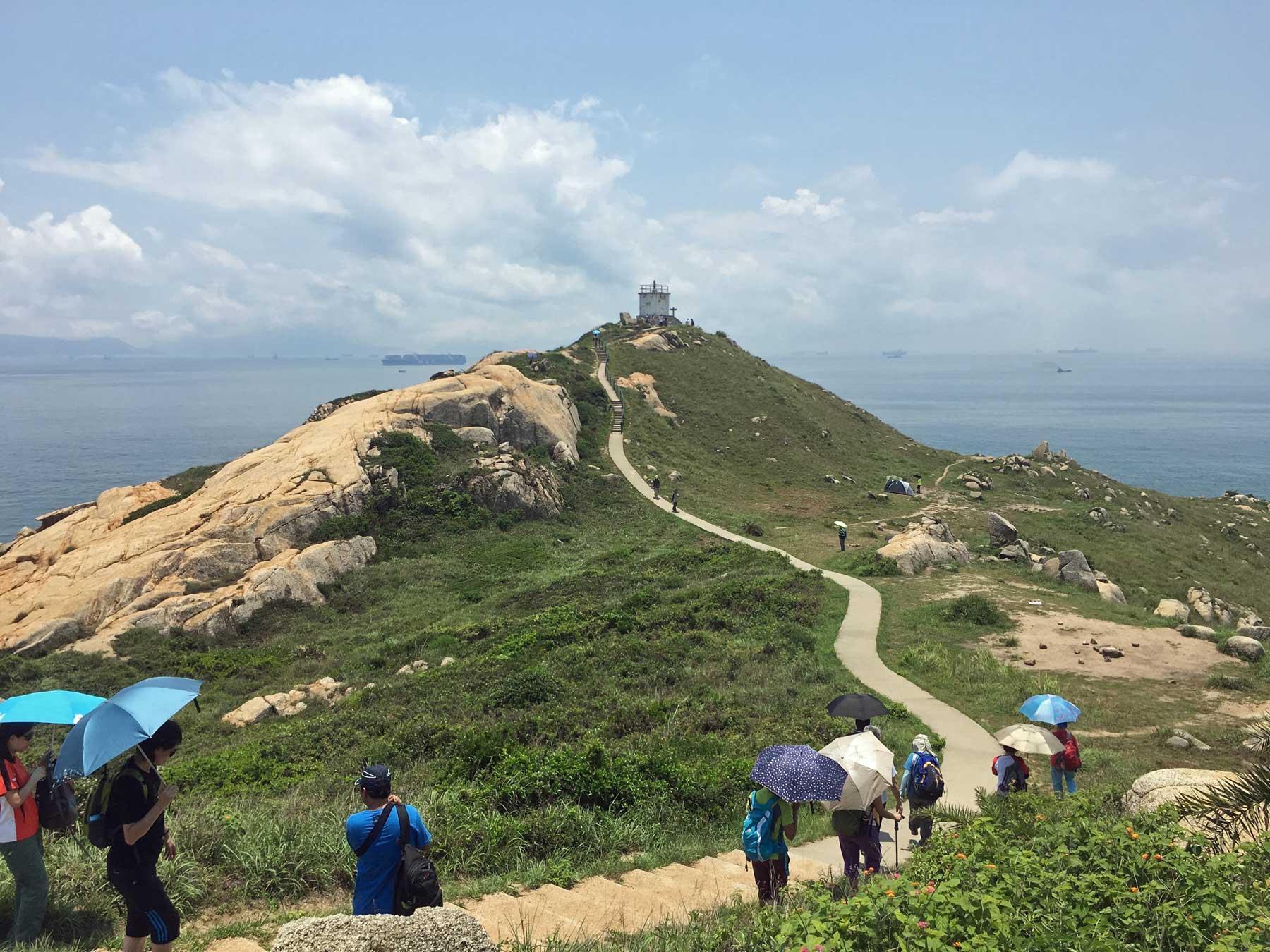 Then came the descent and return to the ferry pier. But no shade. What to do. With energy levels low do you walk slowly to conserve energy but spend longer in the sun or walk quickly to reach shade as soon as possible but risk burning yourself out. Eventually I got back to some partial shade in the trees and sat down at a wayside stall under the cover of some large trees and enjoyed a long cold drink, and another one, and another one.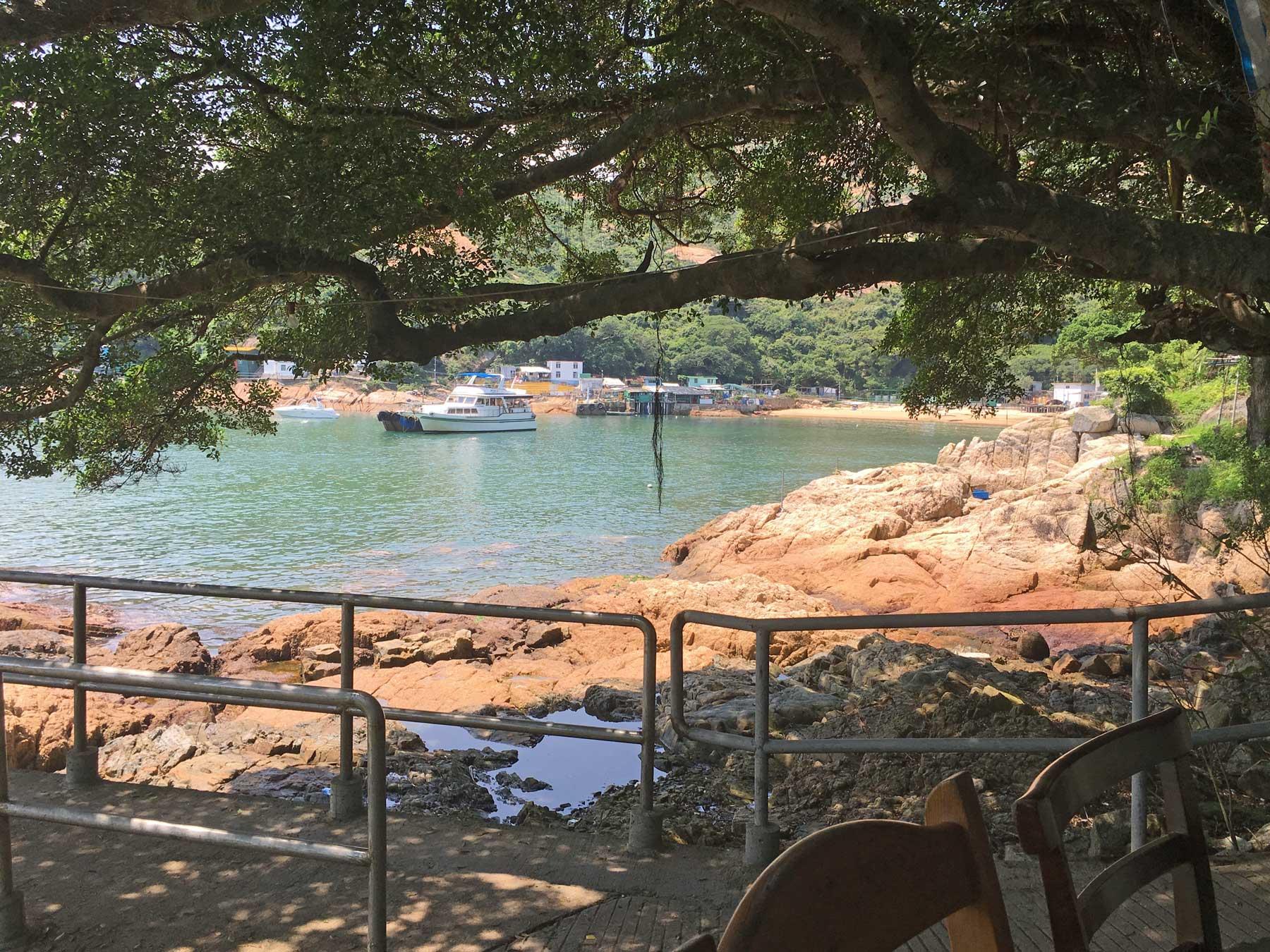 At this point large numbers of wetern people appears from the ferry pier. Until this point it had not occurred to me why the Ming Kee retaurant was so large. The bay was now home to a collection of smart cruisers and junks, hiring a junk is a popular activity, particularly amongst expats, and a succession f boatloads with each person clutching a bottle of wine ensured that a merry time would be had by all at the restaurant.