You may wonder why I have an article entitled New Zealand listed under 'Hong Kong Diary'. Well, read on.
I recently spent a couple of weeks back in New Zealand having had few trips outside Hong Kong in recent years. To say the least it was an eye opener. From the moment I boarded the Air New Zealand flight to Auckland I was reminded of what I am missing out on by living in Hong Kong. I was putting my bag up in to the luggage rack and realised someone was behind me and turned to see a young man carrying an assortment of bags.. "Sorry, mate," "It's ok, take your time," replied the stranger. As soon as someone says that you get out of their way anyway but living in a place where people can often be in too much of a hurry to see 'excuse me' as they barge past it was very refreshing. Air New Zealand is, more often than not, an entertaining experience as the staff are relaxed and friendly while performing their duties professionally. Fortunately, I had no one sitting next to me and the 11 hour flight to Auckland passed remarkably quickly with the aid of a number of Harry Potter films.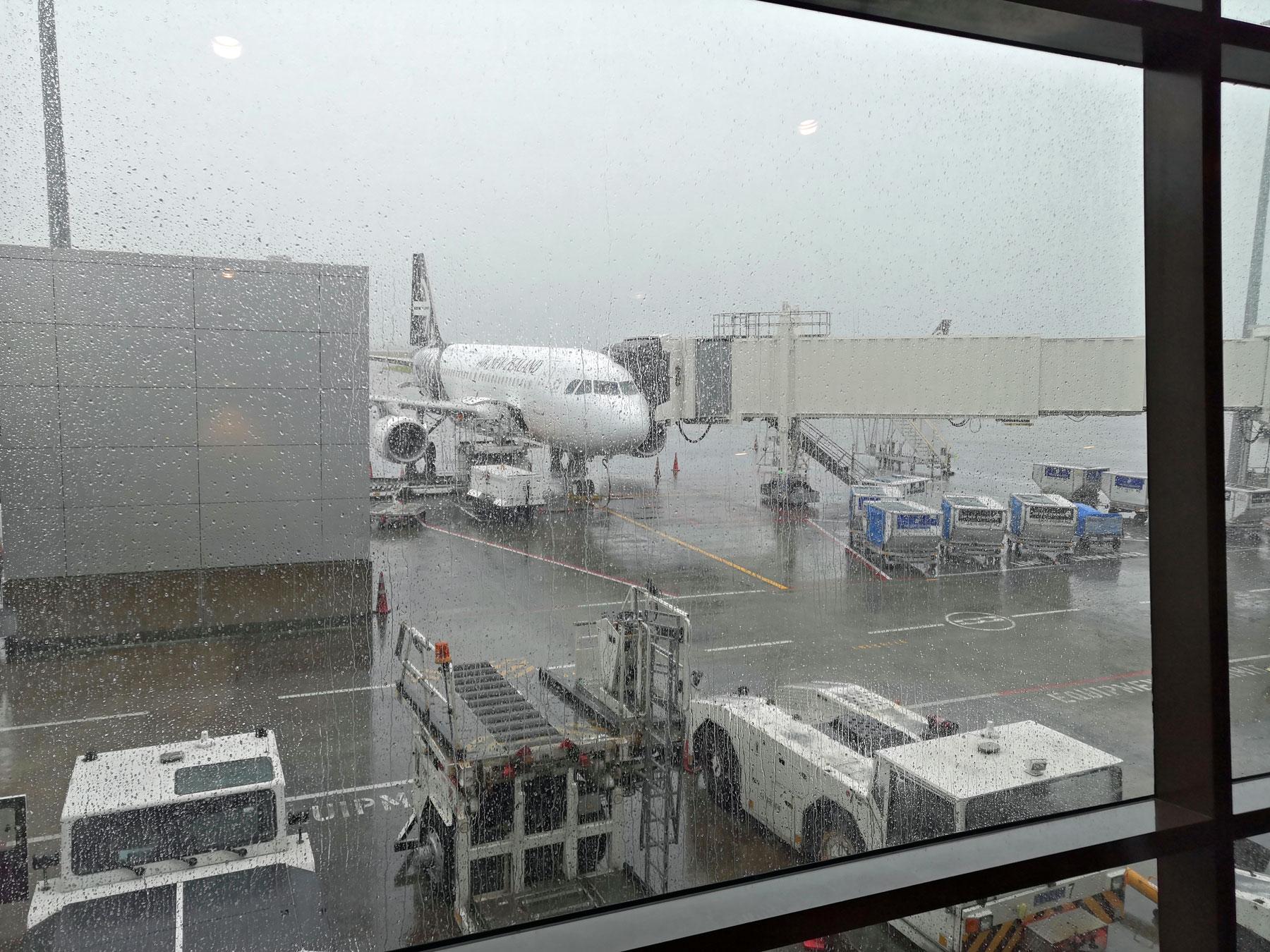 It was a bit wet in Auckland so it was onto the terminal transfer bus in Auckland to go over to the domestic terminal for the flight down to Dunedin. For those of you who aren't sure about the world climate, this was the beginning of July and so the middle of winter in New Zealand and I was heading to the far south. Some people think that as NZ is the last significant piece of land before Antarctica it must be a bit on the cold side. Compared to its larger neighbour the climate is much more temperate but you must consider that Dunedin is 45 degrees south which corresponds to the Pyrenees in Europe so NZ is considerably nearer the equator than anywhere in UK. However, it can still be very cold, particularly for a tropical man like myself.
But I digress. Having enjoyed the flight down, picking up the rental car was a hoot with a lot of banter with staff and other renters. And then into the car. The beauty of rental cars is that you always have a newish car to drive although that can be a problem as I do not drive in Hong Kong and have no idea about the latest developments and it was a while before I worked out how to start the car. Out onto the road and after trundling round some side roads for a few km it's out onto State Highway 1 to go up to Dunedin and to my hotel, checkin and a well-earned rest.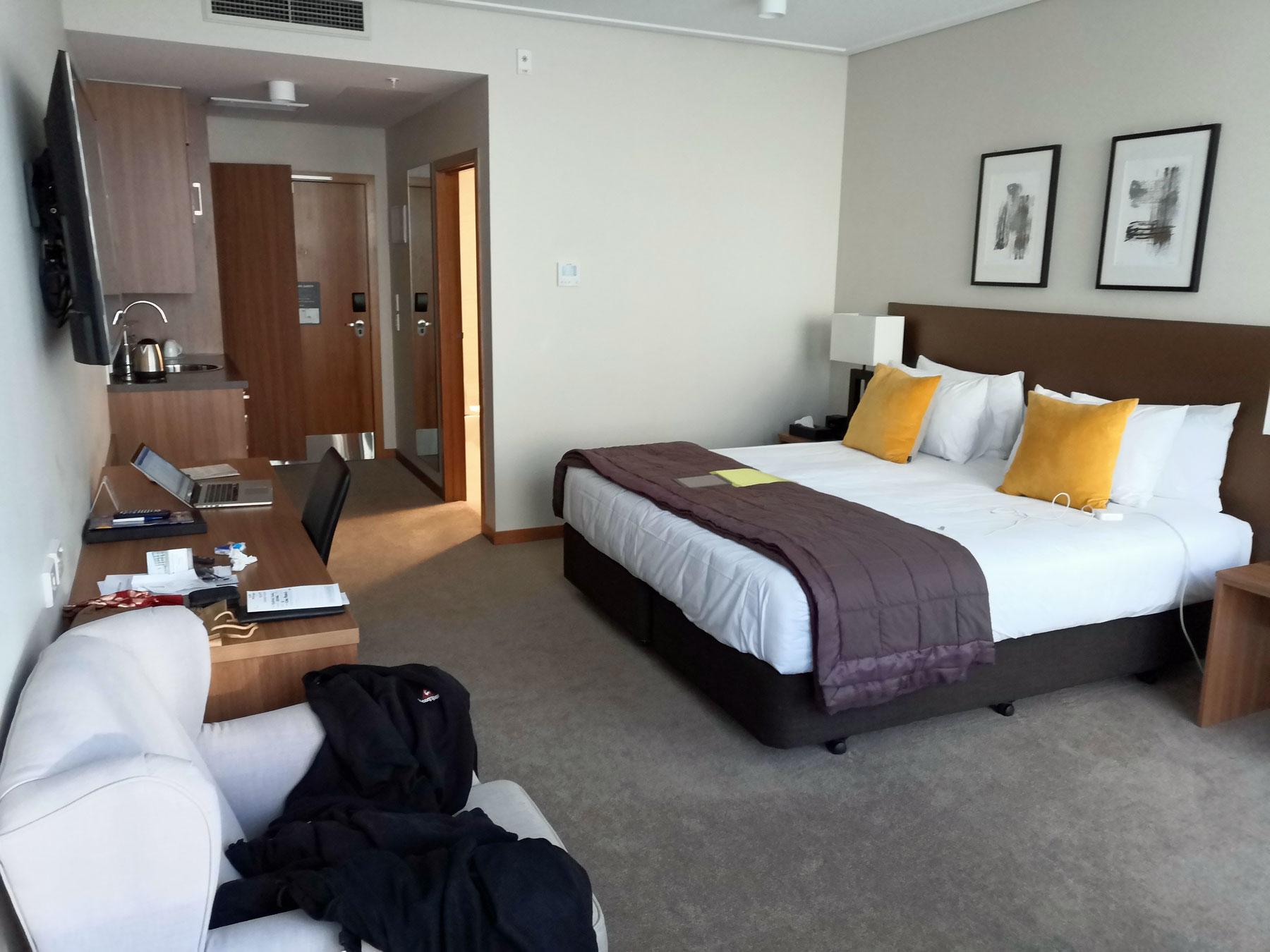 The first evening I popped out to the local New World supermarket to pick up some food and drink. I stepped inside and couldn't help but smile and took out my phone to take a few photos. Why would I want to take photos of a perfectly ordinary supermarket? If you have been to a supermarket in Hong Kong you would understand. Granted space is at a premium in HK and rents are ridiculously expensive which results in most supermarkets being squeezed into an area the size of a ping pong table with aisles which will just about allow two trolleys to pass side by side but, in order to increase display space, the supermarkets pile up boxes of goods in the aisles so that only one trolley can get past.
Hong Kong Supermarket....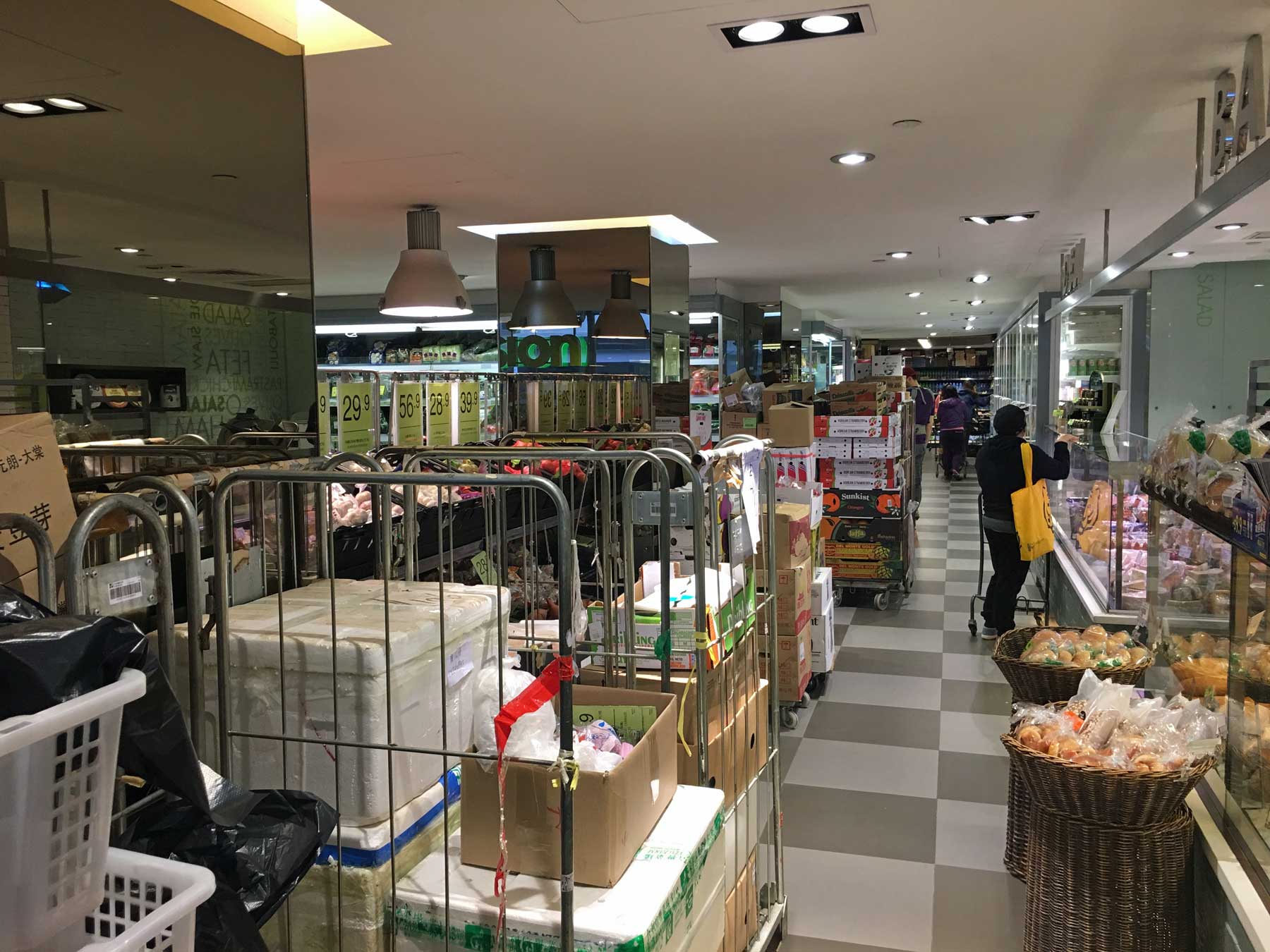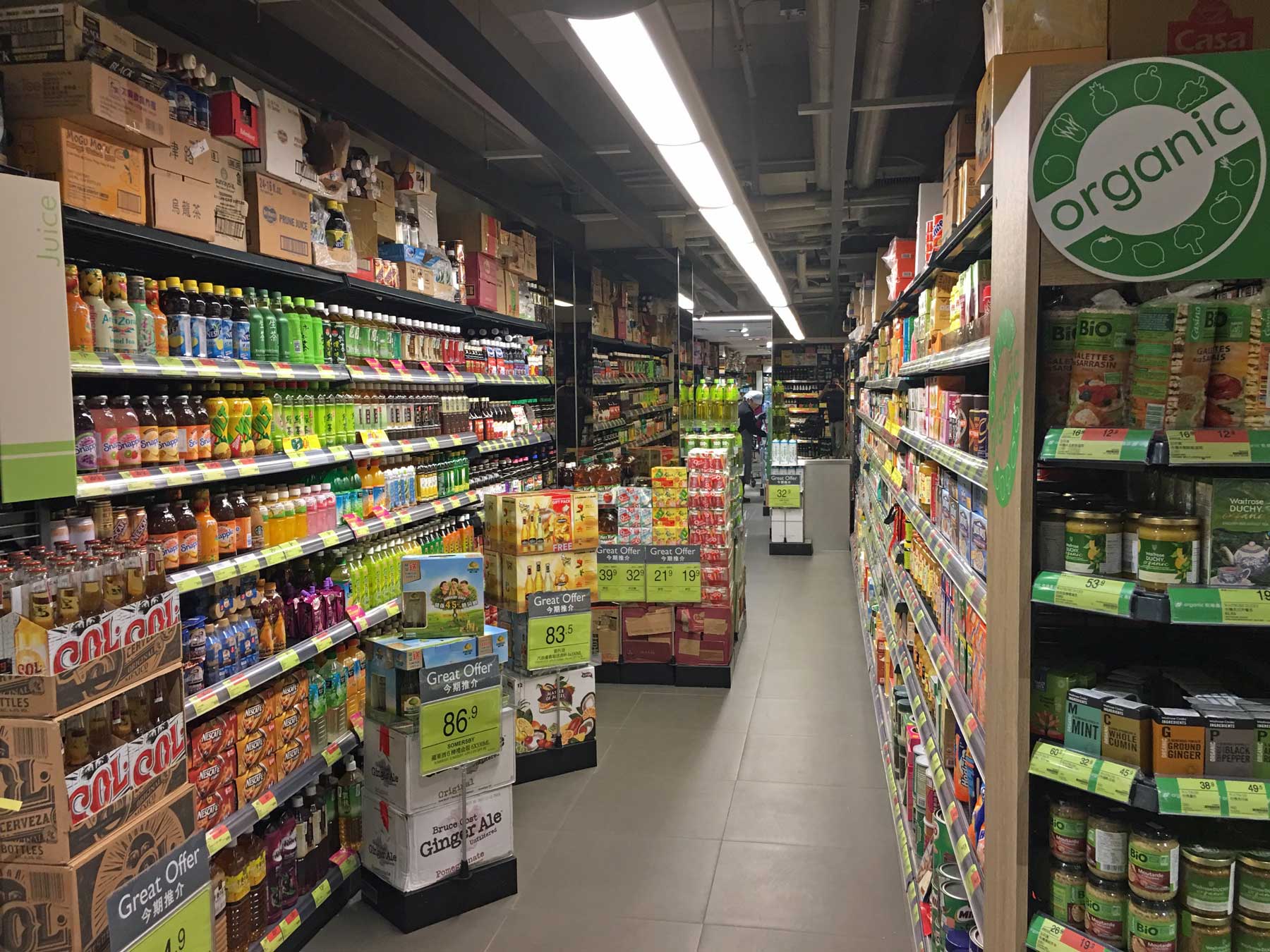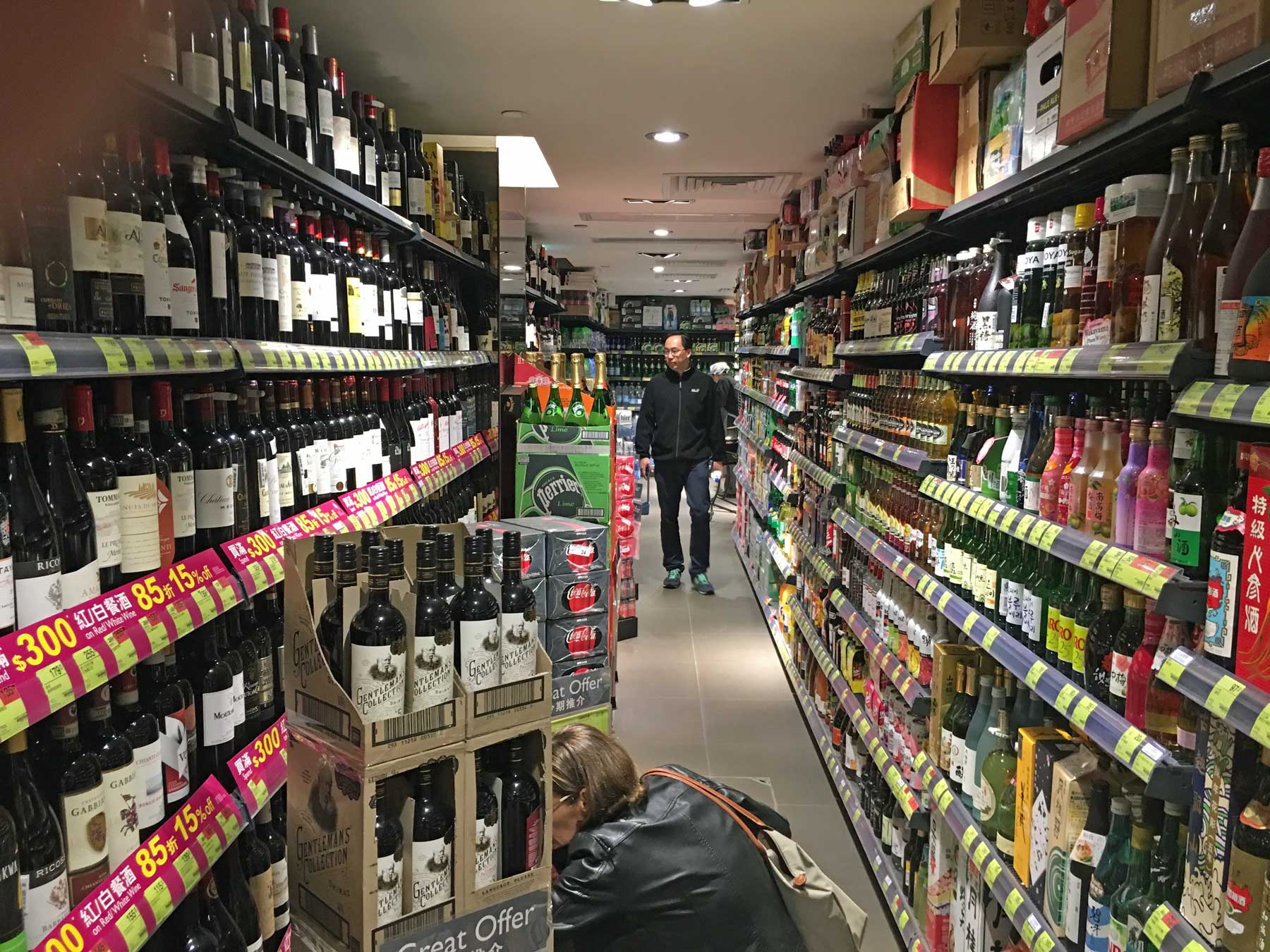 Not only that, but there is little if anything in the way of a store room and there is no access from behind the shop so deliveries are made through the main entrance an palettes are dumped in the aisles. I have sent photos of this to the relevant government departments but the response has been that they "meet Hong Kong standards", which suggests that HK has third world standards.
But back to New World, Cumberland Street, Dunedin. Oh, the joy. By HK standards, a huge space with a huge variety of high quality fruit, veg and everything else you need. Aisles that must be big enough to allow at least four trolleys to pass side by side but in NZ the trolleys are driven by people who show an awareness for their fellow customers which helps keep the traffic flowing. Apart from the main display shelves there are NO additional displays taking up space in the aisles. Lots of staff around who seem ready to help customers find what they are looking for. And then there's the checkout. It is not uncommon in HK to go to the checkout and while the checkout staff go through the necessary procedures to check out your purchases there is a fair chance they will not acknowledge your presence and may hold a conversation with their friends who may well be the far side of the shop. At New World a nice friendly greeting, check out the goods while a packer packs your bag, purchase complete and off you go.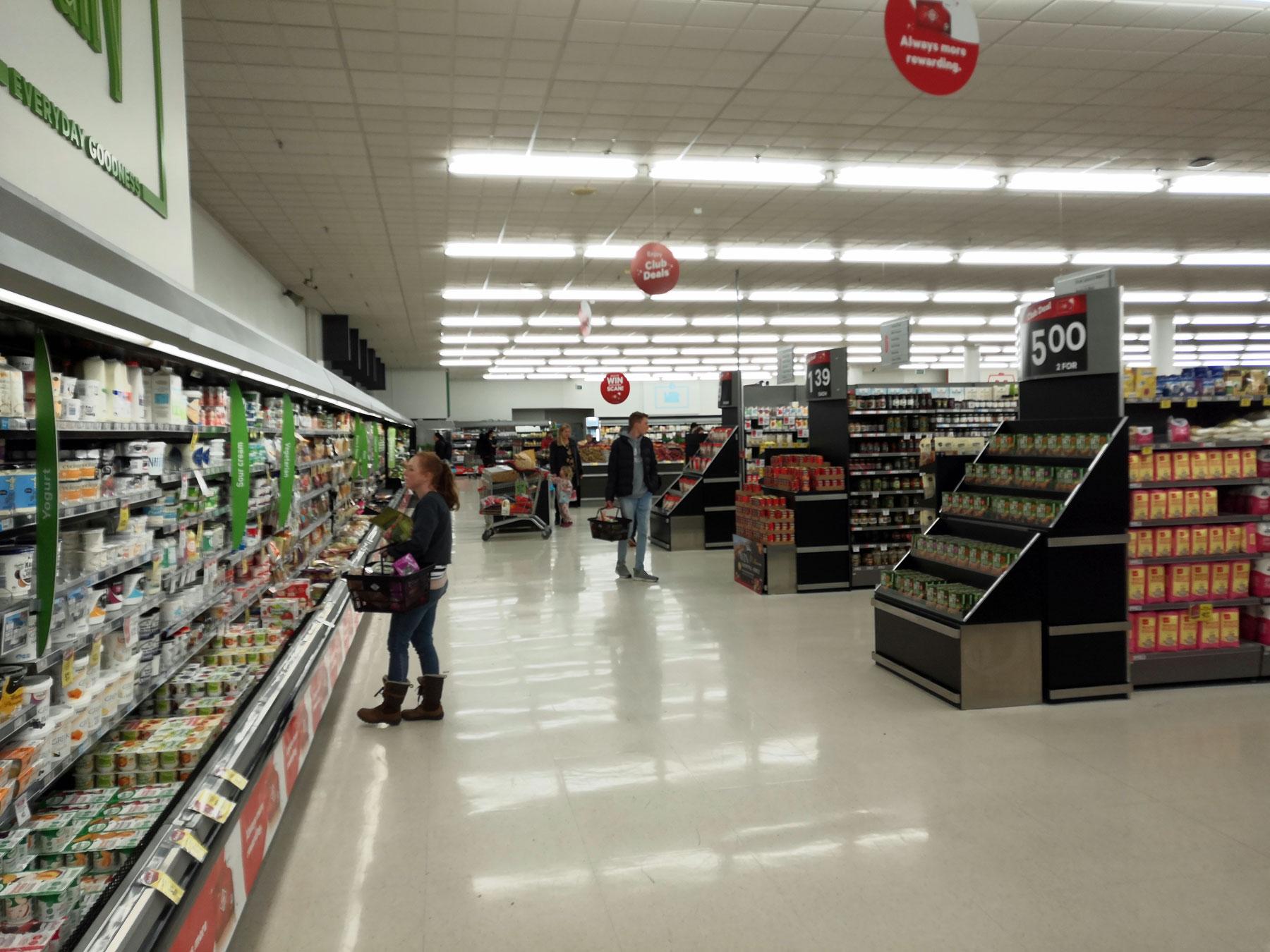 A recent development in HK supermarkets is the introduction of self-checkouts. About 10 years behind the rest of the world but they have arrived and, judging by my local supermarket in Happy Valley, they picked them up quite cheaply. We have four checkouts shoved into a corner where trolleys and baskets are scattered so that it is very difficult to use more than three of the terminals. If you are foolish enough to buy loose fruit and vegetables you have to find a ticket that matches what you have bought and that is not always easy. If you buy alcohol a red light flashes, this is to help prevent people under the age of 18 buying it, and a message says that a member of staff will come and assist you. This is not true. You have to go in pursuit of staff because no member of staff is on duty in the self-checkout area.
Self checkout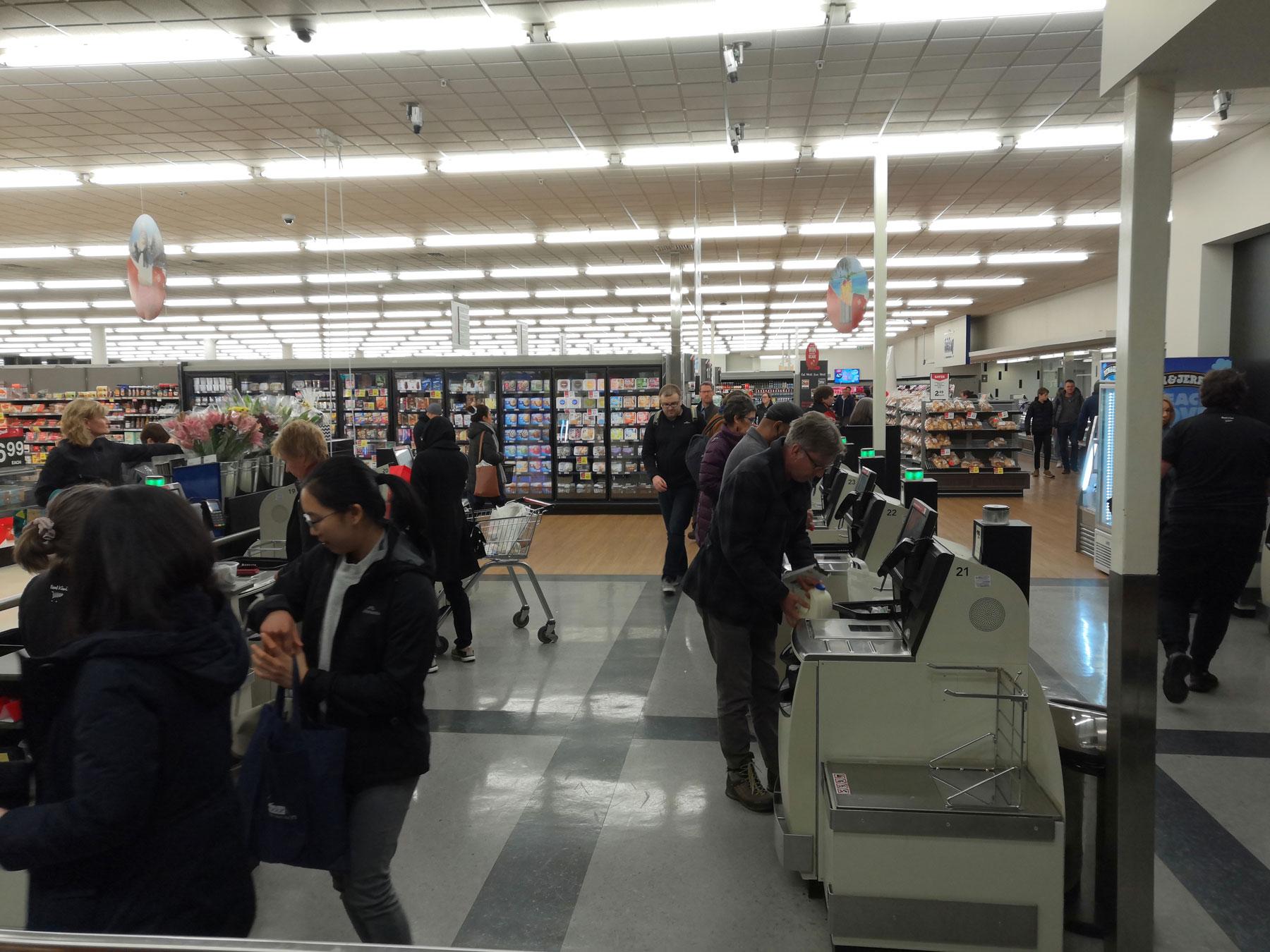 Despite it being the middle of winter most of the time I was in Dunedin there was blue skies and sunshine, at least during the day. Dunedin is a city of around 130000 people, the population of a couple of buildings in HK but the 7th largest city in New Zealand. It does not take long to get out of the city in search of the countryside and what countryside it is. The Otago peninsula offers winding lanes, dirt roads, isolation, seals, penguins, albatross and a castle, of sorts. The coastline north and south of Dunedin is spectacular with stunning beaches, which in the middle of winter you can have more or less to yourself, bar the odd dog taking a hearty soul for a walk. Travelling inland there are even wilder and more deserted spots. With almost artificially blue skies, the likes of which have long since departed from Hong Kong, clean air and unassuming, friendly people and roads so quiet you start to wonder if you've driven past a road closed sign.
Brighton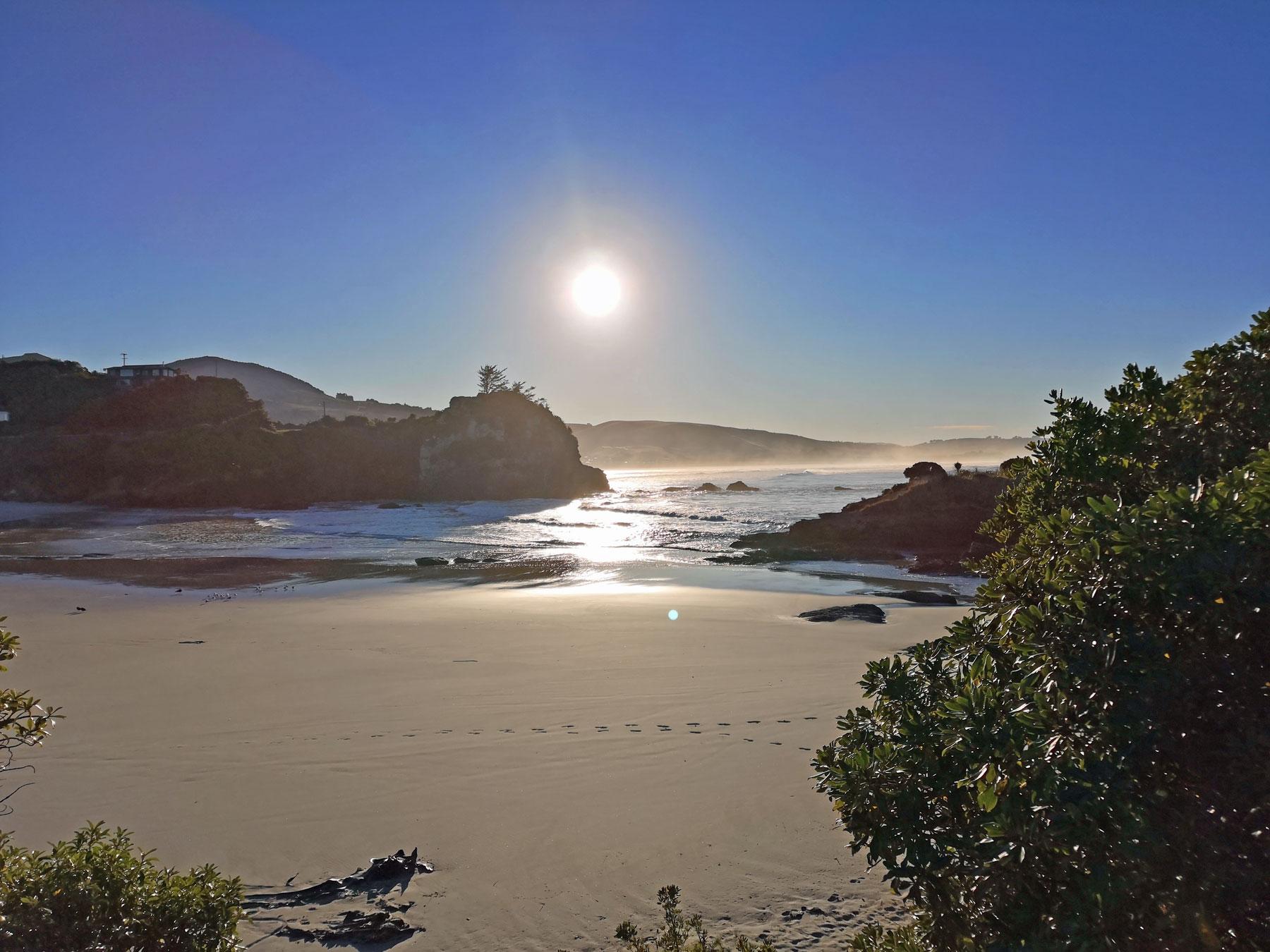 Near Hoopers inlet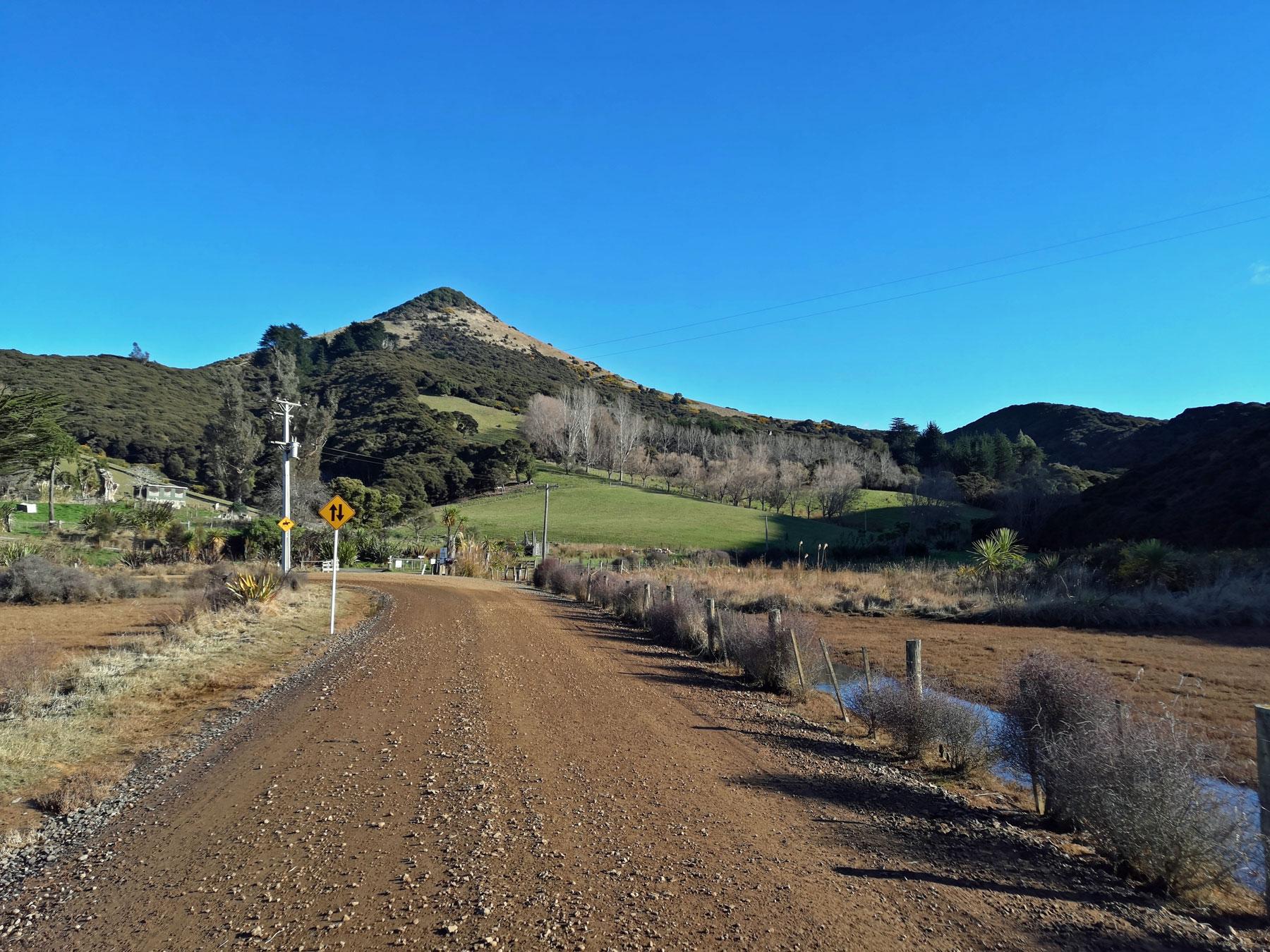 So New Zealand is picture perfect with so much going for it why on earth do I live in Hong Kong? It's a good question and one I ask myself many times and there are all sorts of reasons but I might discuss those another time.