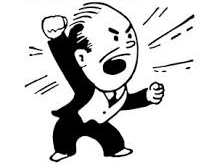 I live on the high street in a part of Hong Kong called Happy Valley. On numerous occasions every day someone sounds their car horn, often for extended periods. For some reason drivers seem to think that traffic jams will clear faster the longer they sound the car horn but do they think that the only ones who will hear their horn are the ones who are blocking the road?
I was aware that, in other developed countries such as UK and NZ, sounding the horn is illegal except in an emergency so I was surprised to find that regulations in Hong Kong say exactly the same thing:
Under regulation 43, a driver shall not use any audible warning device on a vehicle on a road except to warn any person on or near a road of danger
. A traffic jam hardly meets this definition.
Sounding the car horn is illegal and selfish but for some reason we tolerate it on a daily basis. I know the police have plenty of more important things to worry about but I wonder when the last prosecution for honking took place. I don't expect a police crackdown but it would be nice to think that drivers could give a little thought to others before they honk.